Private sector wage growth in June qtr lower than expected; lowest in 10 years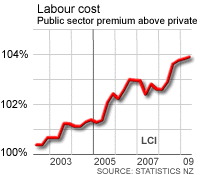 Private sector wages grew at their slowest rate in 10 years in the June quarter and fell further behind wage growth in the public sector, despite the new government's clampdown on costs. The weaker than expected wages figures may act as a further drag on the housing market and encourage the Reserve Bank to keep its promise to restrain the Official Cash Rate at or below 2.5% until late 2010. Public sector wage rates, including overtime, were up 3.6% in the June quarter from a year ago, compared to a 2.7% rise in private sector wages, figures released by Statistics New Zealand show. Wage growth in both sectors has slowed over the previous three quarters, with public sector growth down from 4.8%, and private sector growth down from 3.7%, in the September quarter last year. Total wage growth was 2.8% from a year ago.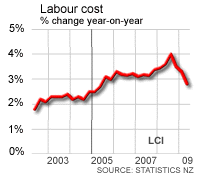 Public sector wages grew 0.4% from the March quarter, while private sector wages were up 0.3%, down from economist expectations around a 0.5% increase. Total wage rates were up 0.3%, the lowest quarterly growth since the June 1999 quarter, Stats NZ said. "The increase this quarter was influenced by the 4.2 percent increase in the minimum wage, which took effect on 1 April 2009. There were also a small number of respondents who reported drops in pay rates as a result of the economic downturn, specifically in the construction, wholesale trade, and manufacturing industries," Stats NZ said. Demand for labour continued to decline in the June quarter as the levels of full-time equivalent employees, filled jobs and seasonally adjusted total paid hours fell from the same quarter a year ago. The June quarter was the third consecutive quarter to see a year-on-year drop in these figures. The level of full-time equivalent employees working in the June quarter was down 3.2% from June last year as well as being down from the March quarter. The level of filled jobs was up 0.75% from March, but down 2.1% from a year ago. Seasonally adjusted total paid hours were down 3.4% from June 2008. "This is the largest annual decrease in seasonally adjusted paid hours since March 1992," Stats NZ said. "Despite a fall in paid hours, total gross earnings increased over the year, leading to a 4.5 percent increase in average total hourly earnings for the year to June 2009," Government Statistician Geoff Bascand said.