Rental property most popular again with investors in ASB survey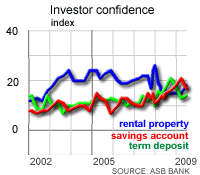 New Zealand investors are falling back in love with rental property after a brief flirtation with bank term deposits and savings accounts, ASB's latest quarterly investor confidence survey shows. The percentage of respondents to the survey who believed rental property gave the best return on investment out of a number of asset classes rose to 18% in the second quarter of 2009 from 15% in the first quarter. Rental property took over first place from bank savings accounts, which fell from 21% at the start of the year to 17% of investors who believed the class gave the best return in the second quarter. Throughout New Zealand's recent property boom between 2003 and the end of 2007, rental property remained well ahead of other asset classes for investors who thought it gave the best returns over savings accounts, term deposits and managed investments, unit trusts and superannuation.
However with the property market crash at the end of 2007 and the beginning of 2008, rental property as a preferred investment fell away as investors moved toward the safety of bank term deposits and savings accounts.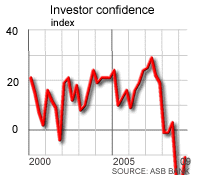 "With early signs of more stable financial markets it's likely that a wider range of investment categories may now re-gain favour in addition to the recent safe-haven allure of bank deposits," ASB Head of Investment Services Jonathan Beale said. "House prices have continued to remain high relative to incomes, despite having dropped over the last year, and with mortgage rates being low, confidence in rental property investment has started to come back into favour," Beale said. The level of respondents who saw term deposits as giving the best investment return rose 1% over the quarter to 14% of respondents. This was still down, however, from 21% in the third quarter of 2008 when investors were seeking to put money into safer asset classes as world credit markets froze and confidence fell away. The number of investors who said they preferred managed funds, unit trusts and superannuation fell 1% over the quarter to 9% of respondents who regarded these as giving the best return on investment. Overall net investor confidence remained negative in the second quarter (see second chart). This was despite the number of respondents saying confidence was better in the quarter closing in on those suggesting it was worse. Net confidence in investing overall improved to minus 11% from minus 25% in the March quarter.