Wholesale trade down 6.7% from a year ago; inventory growth slows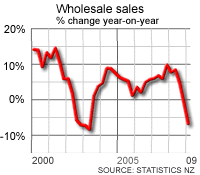 Wholesale trade sales in New Zealand fell 6.7% (NZ$1.4 billion) in the March quarter from the same quarter a year ago, figures released by Statistics New Zealand (Stats NZ) show.  The year on year decline in March followed a 0.8% fall in the December quarter, which was the first fall since an 8.3% decline in the June quarter of 2003. The 6.7% drop was led by a 24.2% fall in motor vehicle wholesale trade sales (its fifth in a row), followed by 23.6% drop in metal and mineral products. In another sign of the hard times faced by the building industry, wholesale trade sales of builders' supplies were down 14.8% in March from a year ago, its fourth consecutive quarter of increasing decline. The biggest rise in wholesale trade sales over the year came in the food and grocery product category, up 6.9%.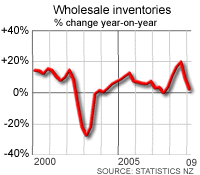 The annual growth in stocks held by wholesalers dropped to 2.2% in the March quarter, after being at a recent high of 19.7% in September and averaging 14.2% over 2008. Stocks held at the end of the quarter fell 2% from the end of December. In the previous seven years, the change in stock levels between the end of December and March was negative only once, in 2006 (down 2%). Seasonally adjusted, wholesale trade sales fell 5.9%, or NZ$1.3 billion, in the March quarter from the December quarter.  "This is the largest quarterly fall in total sales since the current series began in 1995, and is more than double the previous largest fall of 2.5% (NZ$550 million) in the December 2008 quarter," Acting Government Statistician Dallas Welch said of the 5.9% drop.