Agriculture lending still going strong in March as business lending contracts
Agriculture lending by banks and other financial institutions continued to rise in March, up 1.4% from February and 21.7% higher than a year before, data from the Reserve Bank of New Zealand shows. In contrast, outstanding business credit fell for the third consecutive month and is now down 1.3% from its peak in December 2008. By the end of March, the amount of outstanding agricredit had grown at over 20% year-on-year for each month since May 2008. It eased slightly to growth of 21.7% in March, meaning there was NZ$44.7 billion worth of credit lent to the sector at the end of the month. Business credit grew 8.2% from March 2008, but year-on-year growth has been slowing in the past few months. The level of credit lent to the business sector had fallen to NZ$79.2 billion by the end of the month.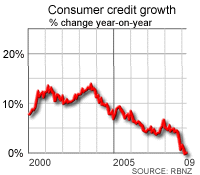 Consumer credit lending was hardly changed from both February and March 2008 at NZ$12.8 billion. After year-on-year growth of between 4-6% in the first three quarters of 2008, it began to taper off in October. Finally, housing credit growth continued its slowdown, with March being the 21st consecutive month in which year-on-year growth slowed from the previous month. The amount of outstanding housing credit was NZ$163 billion at the end of March, up 3% from March 2008.