Retail spending falls in February; department stores, tourism hit (update 1)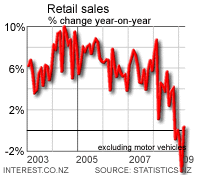 Total retail spending in New Zealand in February fell 6.9% from the same month a year ago as consumers bought fewer cars and spent less on car accessories, although department store and clothing sales fell heavily too. (Update 1 to include fuel retailing figures and JP Morgan comments.) Excluding motor vehicle retailing, retail sales fell 4% from February 2008, reinforcing the pressure on the Reserve Bank to cut the Official Cash Rate by 50 basis points to 2.5% on April 30. However, 2008 was a leap year, meaning there was an extra day in February. The loss of one day (the 29th in 2008 was a Friday) would allow for roughly a 3.5% fall in unadjusted retail sales figures between February 2008 and 2009, if the two were to be similar figures. Like previous months, the slowdown in total retail spending was fuelled by a sharp contraction in motor vehicle retailing, down 27.4% from a year ago. Department store spending fell 5.1% from a year ago, while supermarket and grocery store spending rose 0.9%. Clothing and softgoods retailing fell 9.8%. The tourism industry struggled as accommodation spending fell 6.9% and spending in bars and clubs fell 6.2%, as did cafe and restaurant spending.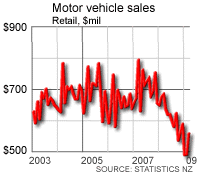 Seasonally adjusted, total retail spending in February rose 0.2% from January, while spending on non-auto industries fell 0.1%. Total spending in all industries in February was NZ$5.066 billion, compared to NZ$5.310 billion in January and NZ$5.442 in February 2008. The rise in seasonally adjusted retail sales from January was largely attributable to a 6.7% rise (seasonally adjusted) in automotive fuel retailing. This was consistent with economists' forecasts. Ministry of Economic Development figures for petrol prices show the price of petrol (91 octane) rose from an average of 141 cents per litre in January to 167 cents/litre in February, an 11% rise. Unadjusted figures showed a slight fall in total fuel retailing between the two months (less than 1%), although January had three more days than in February. Year-on-year, unadjusted fuel retail spending in February fell 11.4%, while the average petrol price fell by 4 cents per litre, or 2.3%. JP Morgan economist Helen Kevens said the trend for retail sales was expected to continue to fall: "The trend in retail sales continued to fall (-0.4%m/m), as it has since January last year, extending the most prolonged period of decline on record. We expect this trend to continue; household spending will fall over 1% in 2009. The income tax cuts delivered from April 1 should help prevent an even larger decline, with the tax cuts giving a worker on the average wage (between NZ$48,000 and NZ$78,000) an extra NZ$18 a week," Kevans said. "That said, in our view, a significant portion of these tax cuts will be saved given consumers have become increasingly reluctant to spend amid widespread recession fears and heightened anxiety about job security. Just last week, the NZIER Quarterly Survey of Business Opinion showed that a net 36% of companies plan to shed workers," she said. See all our
industry, commodities and wholesale charts here
.