Housing market volumes and prices jump in March, REINZ says (update 4)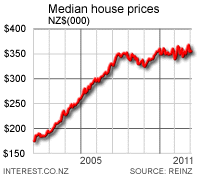 Both the median selling price and the volume of homes sold in March rose from February, figures released by the Real Estate Institute of New Zealand (REINZ) show. There were 6,694 sales over the month, up from 5,228 in February. The median price was NZ$335,000 - up from NZ$330,000. (Update 4 to include proportion of houses sold in various price brackets, and that there was a decrease in the proportion of houses sold for less than NZ$400,000 in March from February.) The median price was still down from NZ$349,000 in March 2008 and 4.8% down from its peak in November 2007, while the number of sales in March was the highest for any month since November 2007. However REINZ President Mike Elford said that while the figures were cause for "cautious optimism", it was still too early to predict a recovery.

"We need to read the figures in the context of December, January and February figures being light months in terms of volume," Elford said. "And while there is certainly a significant return to healthier numbers, we also need to be mindful we are now coming into a period of seasonal drop off in sales."
Median days to sell nationally fell from 62 in February to 44 in March, REINZ said. In Auckland it fell from 56 to 38. The median selling price in Auckland rose from NZ$421,500 in February to NZ$435,000 in March. In Wellington it remained stable (up NZ$1,000) at NZ$376,000 as with Christchurch at NZ$290,000.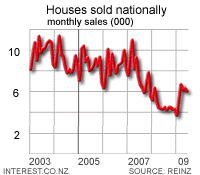 The median selling price rose from February in six of the 12 nationwide areas surveyed. Alongside Auckland and Wellington, there were median price rises in Northland (up NZ$6,000), Central Otago Lakes (up NZ$10,000), Otago (up NZ$7,000) and Southland (up NZ$2,000). The more central parts of the country saw falls in the median selling price in March. The median selling price in March 2009 was down from March 2008 for all regions except Taranaki and Nelson/Marlborough. The proportion of houses sold for less than NZ$400,000 fell from 66% in February to 64% in March, while the proportion sold between NZ$400,000 and NZ$599,999 rose from 22% to 24% of total houses sold. The amount sold between NZ$600,000 and NZ$999,999 rose from 9% to 10%, and the proportion over NZ$1 million fell from 3% to 2%. See the chart here. The REINZ numbers contrast with the Quotable Value figures released earlier today, showing the house price index had fallen 10.1% from its peak.