Inward migration surges 82.7% to 5 year high in February, but tourism slumps 8.5%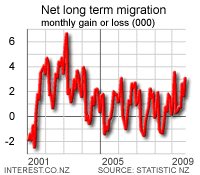 Net inward migration surged 82.7% in February to its highest level (3,582) since January 2004, but inward tourist numbers fell 8.5% in February from a year ago, figures from Statistics NZ show. There was a 23% fall in the number of New Zealanders leaving to live in Australia and an 8.7% rise in the number of British residents migrating here, including an unidentifiable number of NZ citizens returning. But the biggest influx of migrants came from India (up 31.7% in the last year), the Philippines (up 13.7%) and South Africa ( up 29.3%). India at 1,448 was the single biggest source of immigrants in February, above Britain on 1,418. This suggests that we have yet to see a significant increase in New Zealanders returning home, which is sometimes used to argue that cashed-up returning ex-pats would boost house prices. Most of the inward migration is of less cashed-up Philippine and Indian workers. Tourism businesses are however struggling as the global recession drives down the number of long haul tourists in particular. Even the New Zealand dollar's slump has failed to attract new visitors.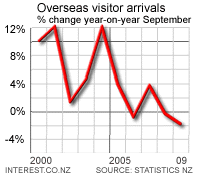 Short term visitor arrivals from Hong Kong halved to 1,518 in February from the same month a year ago, while tourist arrivals from Korea fell 28.6% to 5,060 and arrivals from Japan 14.3% to 9,890. The biggest fall in numbers was from Britain, with 7,544 fewer in February. The next biggest fall was from the United States, with 5,589 fewer Americans visiting us in February from a year ago. Visitors from Australia rose 2,162 in February or 2.5%. Overall short term visitors fell 8.5% to 256,559 in February from a year ago, with total visitors in the year to February falling 60,327 or 2.4% from a year ago to 2.425 million.