Manufacturing sales down 5.4% in December quarter; stocks up 14.1%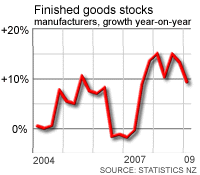 Manufacturing sales fell 5.4% in the December quarter, while stocks rose 14.1%,
Statistics NZ reports.
Here's more detail from Statistics NZ>
The seasonally adjusted volume of manufacturing sales fell 5.4 percent in the December 2008 quarter, Statistics New Zealand said today. This is the fourth consecutive quarterly fall. Increased volatility in this series in recent quarters should be taken into consideration with regard to the size of this latest fall. Although the volume of sales is down, increased prices resulted in only a minimal decrease (of less than 0.1 percent) in the seasonally adjusted value of manufacturing sales in the December 2008 quarter. This follows an increase of 1.3 percent in the September 2008 quarter. Four industries contributed the bulk of the overall decrease in the seasonally adjusted sales volume: meat and dairy products, petroleum and industrial chemicals, basic metals, and transport equipment. Only three of the 15 industries recorded increases, which were all minor compared with the decreases. The meat and dairy product manufacturing industry had a 6.0 percent drop in the seasonally adjusted sales volume in the latest quarter, and a 5.3 percent rise in the sale values. Dairy prices rose during the quarter, while meat prices eased. The trend for the volume of manufacturing sales shows a decline of 8.0 percent over the latest three quarters, while the trend for the sales value continues to rise.