What REINZ Presidents said had happened, would happen and what happened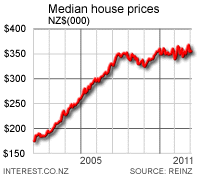 With REINZ February figures released today showing a 6.25% decrease in house prices in New Zealand since their November 2007 peak, we thought it would be interesting to look through the REINZ press releases each month since mid-2007 and take out a few comments from each one on how the Institute saw the housing market at the time. If you would like to access the full releases for each month we have linked back to them. Here is a link back to the piece on the February figures.
April 2007 - Median price: NZ$349,000 (Murray Cleland) said that the rapid escalation in prices this year added to the government's housing affordability headache. "Tomorrow's budget will present an important opportunity to deal with the looming crisis for first home buyers, by providing some concrete assistance." "The budget will be an opportunity to bulk up the level of first home ownership assistance, but the government will need to act quickly given the latest figures because housing affordability is becoming a race against time as the housing shortage drives up prices." May 2007 - NZ$350,000 REINZ National President Mr Murray Cleland today reported a new record national median residential house price of $350,000, for May, which he described as "something of a milestone." But Mr Cleland noted that despite higher prices in most regions, there were signs that the surge in prices over the first half of this year was slowing. "Whether it's the gathering interest rate clouds or the market anticipating the increase in the Official Cash Rate last week, the market is showing signs of taking a breather." June 2007 - NZ$347,500 Contrary to recent reports, the New Zealand residential property market cooled its heels in June, with signs that the market may be in for a period of consolidation, according to the Real Estate Institute of New Zealand Inc. (REINZ). REINZ National President Mr Murray Cleland today reported a fall in the latest national median price from May's milestone figure of $350,000 to $347,500 in June, but based on figures clouded by a change in the reporting systems applied by the Institute to its members. July 2007 - NZ$345,000 "At best you could say the July residential property market was "˜seasonally challenged' and overall the national median price figure was a pretty good performance given that we are in the depth of winter when the market is always at its lowest ebb," Mr Cleland said. "While some of the regional figures look a bit disconcerting, we don't believe the market is going into a full-scale retreat, with the chances that the next two warmer months will witness a recovery of median prices in many of the areas which fell in this latest month". August 2007 - NZ$350,000 "The further back you go the more positive the market has looked, but even though the year on year percentage was up from 10.40 per cent in July to 12.90 per cent in August, there is no doubt that the rate of price growth continues to slow and has been doing so for a while." "The real issue is that demand for housing in New Zealand continues to exceed supply and while that situation continues, prices will always be firm. But on such low turnovers it is difficult to say from month to month that the market is good, bad, or indifferent." September 2007 - NZ$351,000 "Most commentators have been predicting a slowdown in annual housing price growth, and while that is the long term trend, the fact is that it is still sitting at 12.3 per cent, a little lower than August on 12.9 per cent but up on July which was 10.4 per cent." October 2007 - NZ$350,000 Mr Cleland said Northland and Hawkes Bay were examples of areas with "˜price static' where low volumes (6,854 nationwide) were skewing median prices. And while Hastings City saw an increase from $283,250 to $289,500, Napier City, just a few kilometres up the road, saw its median fall from $306,000 to $272,900. "In other words our advice is don't read too much into these medians in this current market." November 2007 - NZ$352,000 Recent suggestions that the market was a buyers market and that prices were falling weren't borne out by the latest statistics, according to REINZ National President Mr Murray Cleland. "Our figures are as of 5.00 PM on November 30 and therefore the most comprehensive and up to date figures available and they show the market has rallied yet again, underwritten by buying demand and the cost of new housing". December 2007 - NZ$345,000 "Despite some commentators' predictions, there is no discernable erosion of property values. While successive interest rate increases have impacted on the number of properties sold; prices remain steady. This suggests the market may have reached a peak and is now levelling off after a very strong performance over the last seven years. Over that period the national median selling price has more than doubled from $170,000 in December 2000 to $345,000 at the end of 2007," Mr Cleland said. January 2008 - NZ$340,000 "Although we would prefer to see the next two months trends first, it is obvious that people need to be prepared for prices to move back in 2008 which may have consequences for those that are heavily geared, especially those with multiple rental properties in that situation, at a time of rising interest rates." February 2008 - NZ$337,500 "If prices tip into reverse for the balance of this year that will have huge economic and political implications." "Treasury has already begun to talk about the impact of falling property prices while at the same time the Reserve Bank is talking about maintaining the current 8.25 per cent Official Cash Rate until 2009." "It might be testimony to the independence of the Central Bank, but for a government to be going into an election year with potentially falling property prices and rising mortgage interest rates, is not a good look." March 2008 - NZ$349,000 "Easter reduced the month to just 18 business days, but there is no doubt that confidence has taken a knock especially in the lower end where sales of properties worth under $400,000, fell 23.18 per cent compared with the overall sales drop on February of 19.3 per cent." "The explanation for this collapse of "˜the bottom order', as one might say, probably lies in the fact that the lower end of the market is likely to be more affected by confidence issues and particularly some of the recent headlines, while the upper end of the market has relatively more resilience." April 2008 - NZ$345,000 Sales collapsed to just 4,464 in April, down 45.5 per cent on the sales figure a year ago of 8,194. REINZ National President Mr Murray Cleland said, "we thought that the March sales figure of 5,129 was low, due to a short month because of an early Easter, but April shows that the loss of confidence in the housing market is deeper than we had anticipated." "Auckland seems to be most affected by the loss of confidence, and it does tend to be something of a barometer of the market being the first to rise in good times and the first to fall when things turn sour." May 2008 - NZ$345,000 Mr Cleland today described the market as "˜treading water' and showing signs of levelling off from what had earlier looked like an unpleasant trend. "It may well be that sales settle at this level over the next few months, until the Reserve Bank takes the pressure off interest rates, but the latest figure gives some comfort in terms of values, especially in the face of some of the more extreme predictions." June 2008 - NZ$340,000 "However in relative terms the decline is pretty gradual and probably not as pronounced as predicted by some commentators. The market is finding its own level quite well and there is certainly no indication of any significant slump in values." "People are generally deciding to stay put and deferring decisions on buying and selling until a clearer trend emerges. Where values are weaker, the explanation is often that people are selling because they are on employment transfer and our agents report that price expectations are having to be lowered to facilitate faster sales. "However, at the current rate of easing in prices, there is a possibility that the market may bottom out in the next couple of months and then rally a little in spring." July 2008 - NZ$340,000 "There is an unmistakeable degree of recovery in July, which is surprising given that it is generally regarded as the worst winter month, with good improvement in median prices around the country despite continued low sales volumes, Mr Cleland said. Mr Cleland said obvious comparisons would be made with statistics released earlier this week which suggested that the market decline had steepened, "but as we have pointed out before those statistics are based on property settlements, whereas ours are based on unconditional contracts, so inevitably the earlier statistics relate to June sales, reported in July." "Ours are for July sales made in the same month and therefore will always give a more current picture of the market. August 2008 - NZ$330,000 The July recovery in the New Zealand residential property market proved premature with the latest August figures showing a significant drop in sales and in the national median price, according to the Real Estate Institute of New Zealand (Inc). "It looks as if the leading economists are on the money with predictions of a 5 to 10 per cent decrease in the market, followed by a period of stability at the end of this year or early in 2009," REINZ National President Murray Cleland said today. September 2008 - NZ$330,000 The world's financial markets may be in turmoil, but they're showing little dramatic effect so far on the New Zealand residential real estate market, according to the Real Estate Institute of New Zealand (REINZ). "The median house price overall remains unchanged in September compared with August at $330,000. The relatively small increase in the number of properties sold indicates a slight degree of recovery, but that is what we would expect in a spring market after a harsh winter," Mr Elford says. October 2008 - NZ$335,000 (REINZ Vice President Peter McDonald) says that it is heartening to see the market holding its own despite the problems in the United States, the international financial markets and high interest rates, "not to mention the loss of confidence caused by negative opinions published in the media". "Going forward, the news is even better," he says. "Up-to-date reports post election show the level of activity has increased with more enquiries showing the market may be picking up. Uncertainty caused by the election has stabilised and with interest rates and fuel prices going down, people's confidence in real estate is returning." November 2008 - NZ$337,500 Institute president Mike Elford believes the reduced number of sales compared to the October figures is the result of a combination of factors including the general election and the global economy. "Not surprisingly, some people are taking a wait-and-see approach and it is normal for things to slow down during a general election," Mr Elford said. December 2008 - NZ$328,500 December sales figures released by the Real Estate Institute of New Zealand (REINZ) today confirm what everybody knows: the residential real estate market has slipped back to where it was a few years ago. But Institute national president, Mike Elford, believes the downturn of the past few months is, in part, evidence of a "correction" of what in some areas was wrongly inflated values. "This, combined with factors such as our own general election, which historically sees a slowing of the market, and the global economic situation has resulted in the slowest residential market we've seen in several years and in areas where prices had sky-rocketed, these have come back." January 2009 - NZ$325,000 Of greater concern is not the price of houses, but the very limited turnover. The number of home sales nationwide in January was 3,706, significantly less than same period in 2008 (5,186), and also less than December sales of 4,302. "This is the lowest figure we have seen in recent years by quite some margin," Mr Elford said. "Before 2008, the lowest turnover of houses we have seen on the New Zealand market was January 1992 when the number of houses sold was 4,427. We're now well below that. "It's clear evidence that people are treading cautiously and reflects the uncertainty of the wider economic environment," Mr Elford said. February 2009 - NZ$330,000 Institute president Mike Elford says there has been a significant turn around in enquiry levels and number of sales and median prices are up in all but three out of 12 regions compared with January's figures. "While we must still take a cautious approach, the February figures seem to indicate that lower interest rates and real estate as an investment option are having a positive impact on the market," Elford said. "The bounce back from the horrific January figures is welcome, but we must still acknowledge we're dealing with light volumes compared with recent years," he said. "February figures are certainly an improvement on January. However, there is no doubt these are difficult times, so we must be cautious in our optimism. One month's results do not form a trend."