REINZ median prices falls again; sales volumes hit 17 yr low (Update 1)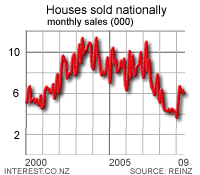 The number of house sales fell to a 17 year low in January, with the median sale price for the month down 7.7% from its peak in November 2007 to NZ$325,000, figures released by the Real Estate Institute of New Zealand show. (Update 1 to include Auckland, Wellington and Canterbury figures.) "This is the lowest (sales) figure (3,706) we have seen in recent years by quite some margin," REINZ president Mike Elford said. "Before 2008, the lowest turnover of houses we have seen on the New Zealand market was January 1992 when the number of houses sold was 4,427. We're now well below that," Elford said. "It's clear evidence that people are treading cautiously and reflects the uncertainty of the wider economic environment," he said. Year-on-year, the median sale price fell 4.4% from NZ$340,000 in January 2008. Days to sell in January rose to 59, compared to 49 in January 2008 and 45 in December 2008. "Again, this is a symptom of the market's "˜wait and see' approach," Elford said. He added that the median days to sell figure was impacted by the Christmas break period and also that, over the years, January has regularly featured as the slowest month in terms of number of sales. Elford also said falling interest rates had yet to have the effect of vitalising the market. In Auckland, the median sale price in January fell to NZ$422,000 from NZ$432,750 a year ago and NZ$440,000 in December 2008. The January figure was down 8.3% from its peak of NZ$460,000 in December 2007. Days to sell was 52, compared to 37 in December 2008 and 45 a year ago. There were 1,149 houses sold in Auckland over the month, down slightly from December and down from 1,550 in January 2008.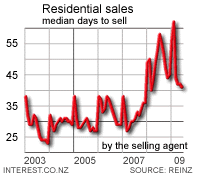 The median sale price in Wellington for January was NZ$362,500, down 11.6% from its peak of NZ$410,000 in March 2008. The December median price was NZ$370,000 and it was NZ$366,750 a year ago. There were 396 sales in total over the month (Dec: 489; Jan 08: 594). Days to sell rose to 64, from 48 in both December and January 2008. In Canterbury/Westland the median sale price in January fell to NZ$285,000 - down 11% from its peak of NZ$320,000 in February 2008 (Dec: NZ$299,000; Jan 08: $NZ$310,000. There were 562 sales over the month (Dec: 705; Jan 08: 780) and days to sell rose to 48 (Dec: 44; Jan 08: 45).