Economists now see OCR trough at 2%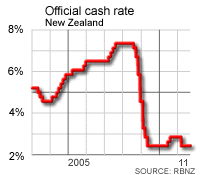 Following the Reserve Bank's largely unexpected 150 basis point (bp) cut in the OCR to 3.5%, bank economists have come out saying they expect the OCR to fall as low as 2% in mid-2009, down from previous estimates of 2.5%-3%. BNZ, ANZ and ASB are now forecasting the OCR's trough to be 2%. Westpac's forecast trough remained at 2.5%. BNZ's head of research Stephen Toplis said they expect the RBNZ to cut by 75, 50 and 25 basis points at the next three OCR meetings on March 12, April 30 and June 11, respectively. "...we have sharply revised lower our future track for the New Zealand cash rate. The RBNZ seems, for good reason, fixated on international developments. In our opinion, these will continue to surprise on the downside. This being so, from a consistency perspective, the Bank will have no option but to push rates much lower yet," Toplis said. ASB is now expecting the OCR to trough at 2% in April, with Chief Economist Nick Tuffley saying they expect the RBNZ to cut the OCR by 100 bps in March, followed by a 50 bp cut in April. "We expect another 100bp cut to the OCR in March. Even though the RBNZ has now had the opportunity to factor in a lot of bad news, there is still more to come. In our judgement the RBNZ has little to lose by getting the cash rate even lower: high inflation is not going to be an issue, and monetary policy is the swiftest buffer available," Tuffley said. ANZ Senior Markets Economist Khoon Goh said they were "pencilling a series of further 50 basis point moves from here with a final terminal rate of around 2% to 2.5%."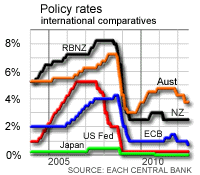 "It now looks increasingly likely that the terminal cash rate will be closer to 2% than the 3% that we had originally thought. Certainly, the historical experience has been that New Zealand interest rates usually end up around 1% above the average of our trading partners during downturns. Looking across Europe, Australia, the UK, Japan and the US, one percent seems the prime number, which gives an endpoint of 2% in New Zealand," Goh said. Westpac stayed with their previous prediction that the OCR would reach as low as 2.5%. They were the only big bank in New Zealand to pick the 150 bp cut in the OCR today. "The (Reserve Bank's) statement noted that further rate cuts would likely be smaller and dependent on events. We see this more as a reflection of the fact that the RBNZ favours delivering most of the expected easing up-front "" we think that they have an endpoint in mind of around 3% for 90-day rates (compared to 5% in the December MPS), and today's cut gets them much of the way there," Westpac Chief Economist Brendan O'Donovan and Markets Economist Michael Gordon said.