Mortgagee listings rising again as summer ends; bankruptcies bounce again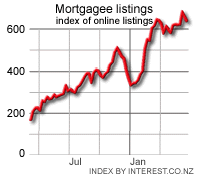 The Christmas/New Year slowdown in activity in the housing market and in the business of registering for bankruptcy and no asset procedures is ending. Mortgagee sales listings bounced sharply in the third week of January as measured by interest.co.nz from listings on trademe.co.nz and realestate.co.nz. Total listings on both sites rose to 388 from 360 the previous week and are up from a December 29 low of 337, although they remain below the 509 peak reached on November 17. Mortgagee listings in Auckland jumped back to 217 from 188 the previous week, which suggests all the growth in the last week was in the Auckland area. Mortgagee listings as a percentage of total sales listings volumes rose to a 7 week high of 0.36% from 0.33% last week. Total bankruptcy, no asset procedure and liquidation notifications also rose in the last week, data from the Insolvency and Trustee Service of the Ministry of Economic Development shows.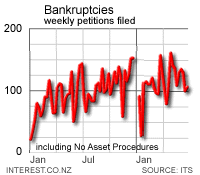 Bankruptcies rose to 49 from 10 the previous week, but remain below their weekly high for 2008 of 73. There was 1 liquidation and 63 no asset procedures for the week, more than triple the previous week. * This article was first published yesterday in our daily subscription newsletter for the banking and finance industries. The email costs NZ$365 per annum and carries exclusive news and analysis for New Zealand banking and finance industry executives, regulators and investors. 
Sign up for a free trial here.