Export prices fall 7.4% in December as aluminium melts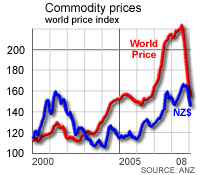 New Zealand export prices fell 7.4% in world price terms and 6.1% in NZ dollar terms in December, the ANZ Commodity Price Index showed. Year-on-year prices for New Zealand exports in world price terms fell 24.4%, and 0.1% in NZ dollar terms. Every commodity in the index 'export basket' recorded price falls in December except apples, ANZ economist Steve Edwards said, adding it was "the broadest monthly drop in commodity prices that we've measured across the NZ export basket, since the series began in 1986." Aluminium prices fell to a five year low, falling 20% over the month. Prices had reached a 20 year high in mid 2008. The fall in aluminium prices have producers all over the world looking to cut back on production. Rio Tinto's Tiwai Point in Southland will undoubtedly be included in these reviews. Alcoa, the world's largest aluminium maker just announced it will cut 13,500 jobs worldwide and trim production back 18%,
Bloomberg reported
. For other commodities, wool and dairy prices recorded large falls, both in excess of 12 percent, Edwards said. "Dairy prices are now at the level they were two years ago, before the start of the much heralded surge 18 months ago. Wool prices have dropped for six successive months, and are now only 2 percent above the lowest level we've recorded since 1986," he said. Forestry products, one of New Zealand's largest export earners, all recorded falls, with log prices dropping 4.4% from November. Pelt prices recorded the biggest drop of all, down 62% in December to a new record low.