Lower interest rates power record improvement in housing affordability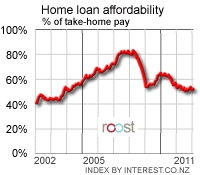 A sharp reduction in mortgage rates drove a record improvement in housing affordability in November to its best level in 3 and a half years, the Wizard Home Loans Affordability report shows. Expectations of big cuts by the Reserve Bank in the Official Cash Rate (OCR) encouraged banks and others to slash mortgage rates by around 75 basis points to an average 7.5% for two year fixed rate mortgages in November. Rates have been cut further since the end of November after the Reserve Bank cut the OCR by a record 150 basis points to 5% on December 4. This fall in interest rates cut the proportion of an after tax median income needed to service the mortgage on a median priced home to 63.9% in November from 67.9% in October. This 4% reduction was the biggest monthly improvement on record in the Wizard Home Loans Affordability report and takes this measure to its best level since July 2005. The previous biggest improvement was in August this year when the ratio improved by 3.2%.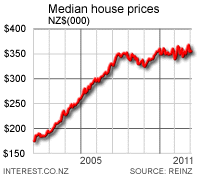 Housing affordability has improved from its record worst level of 83.2% in November last year when house prices hit their peak. However, affordability remains considerably worse than the 45% seen in 2002 before the house price boom when housing was still considered affordable for most. House prices were basically stable in November, but have been under pressure as sales volumes dropped and many buyers either held back in the hope of price reductions or were unable to get high loan to value ratio loans from more conservative lenders. "This will be the best Christmas in home affordability terms in 4 years," said John Grant, Wizard Home Loans, Director, New Zealand Business. "Tax cuts, lower house prices and interest rates are all working together to make housing more affordable going into 2009," Mr Grant said. "Further interest rate reductions and more tax cuts in April next year will make it much easier for first home buyers to enter the market," he said. "2008 has been a rough year for the economy and 2009 looks tough too, but there has been a big silver lining in the form of much better housing affordability."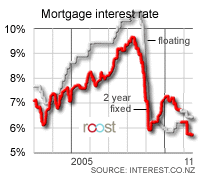 This monthly report measures the proportion of a median after tax income needed in each part of New Zealand to service an 80% mortgage on the median house price in that region. The report also shows an improvement in the proportion required for a first home buyer. This report defines a first home buyer as someone aged 25-29 that has saved 20% of their after tax income in the previous five years and who is buying a cheaper house (first quartile price). The first home buyer's affordability ratio improved to 54.5% in November from 58.4% in October and is also back at its best levels since August 2005. Affordability looks set to further improve in December and through the first half of 2009 as interest rates fall at the same time as house prices are subdued and fresh tax cuts are delivered in April. Most economists expect the Reserve Bank to cut the Official Cash Rate by a further 100 basis points to 4% by mid 2009 as easing inflation pressures and the prospects for global recession force the central bank's hand. The national median house price rose to NZ$337,500 in November from NZ$335,000 in October and is down 4% from its peak in November 2007.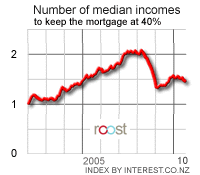 The biggest improvement in home loan affordability was in Southland where the affordability ratio improved dramatically to a very affordable 34.2% from 44.1% in October, largely because of a 17% slump in the median house price there to NZ$165,000. There were also big improvements in Taranaki, Wellington, Waikato and Queenstown because house prices fell sharply. The only region were affordability worsened was Hawkes Bay/Gisborne, where house prices rose. Southland remains the most affordable region, while Central Otago Lakes (Queenstown, Wanaka) was the least affordable at 96.9%, although it dropped below 100% for the first time in 2 and a half years. Note to editors: The Housing affordability series from interest.co.nz was first published in February last year and was sponsored by Fairfax Media up until May this year. It is now sponsored by Wizard Home Loans. Question and Answers about the report How does interest.co.nz work out these numbers? Interest.co.nz gathers data from Statistics New Zealand and IRD on wages in each region, data from the Real Estate Institute from each region each month, and data from banks and non-banks on interest rates. It has calculated home loan affordability going back to the beginning of 2002. How is this survey different from the Massey University survey of affordability? The Massey study is only done quarterly rather than monthly and uses an index of Home affordability rather than actually measuring home loan affordability. It uses an index rather than the actual measure of the proportion of after tax pay needed to service an 80% mortgage on a median home. The exact composition and meaning of the index is not detailed. Why use a single median income rather than household income? It's true that most homebuyers are using a combination of one or more full or part time incomes to service their mortgage. Each household is different and may be using incomes from different sources. The best measure of average national household income is calculated officially once in every three years by Statistics New Zealand. Interest.co.nz chose to use the median income data series from IRD and Statistics NZ because it can be measured monthly and can be drilled down by region and by age. We do include a chart showing how many median incomes are required to keep mortgage payments at 40% of take home pay. It is currently around 2 median incomes. Why is home loan affordability important? It is a useful way to work out if a housing market is overvalued. It's clear house prices stopped rising when the national affordability ratio rose above 80% or 2 median incomes to service the average home loan. It's a way of comparing affordability of housing markets with a national average and comparing housing values from one year to the next. For example, the affordability ratio in 2002 before the housing boom really took off was around 41%.