Auckland, car sales hit hard as retail spending slows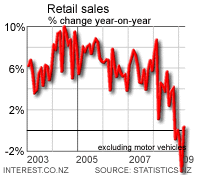 Core retail sales (seasonally adjusted, excluding vehicle sales) rose 0.8% in October from September, but vehicle retailing fell 14.5% to its lowest level since September 2001, figures released by Statistics New Zealand (Stats NZ) show. Core retail spending remains higher than a year ago, up 3.9% from the month of October 2007. Auckland was the region hardest hit, with retail sales in October 2008 down 3% (up 1% excluding vehicle sales) from the same month a year ago. Wellington enjoyed a 6.9% (9.5%) rise, and sales in Canterbury were up 3.5% (6.1%). Total national retail sales (unadjusted) were up 0.7% (4.1%) from October 2007. There were further signs in October that New Zealand's vehicle industry was under strain. Vehicle retailing fell by NZ$90 million in October from September, its most rapid monthly fall since May 1995. This fall contributed to overall retail sales falling 1.3%, or by NZ$69 million. This was the largest monthly drop since February 2004. The overall picture remains of consumers keeping their hands in their pockets because of the slump in the housing market and fears about rising unemployment next year. This figure though is unlikely to change any views on the Official Cash Rate, which is expected to be cut to 4% or lower next year. JP Morgan kept its forecast for a 50 basis point cut in January, before bottoming out at 3.25% in mid 2009.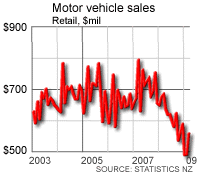 Excluding motor vehicles, core retail spending rose 0.8%, or NZ$34 million in October. The rise included a 7.6% (NZ$15 million) increase in appliance retailing, Stats NZ said. Other notable rises were accommodation spending up 5.3% (NZ$12 million) and clothing and soft-goods up 5.5% (NZ$11 million). Spending in department stores in October fell 2.4%, as did spending on liquor. Bars and clubs saw a 4% fall in retail spending over the month. Spending in bars and clubs in October was up 13.8% from October last year, with department store retailing up 1% and liquor retailing up 3.2%. Fresh produce retailing was up 17.4% compared to October 2007.