Stressed consumers use credit cards less, but allowing balances to rise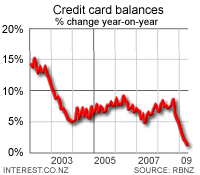 Outstanding credit card balances, including both interest free and interest bearing amounts, fell a seasonally adjusted 0.4% to NZ$5.260 billion in October, the biggest fall in more than 10 years as stressed consumers cut back on using their cards to buy new goods and services.
But the same Reserve Bank statistics show the same consumers allowed the interest bearing portions of their credit cards to rise at double digit rates in September as they struggled to pay off the interest free portions in time or reduced their monthly payments. Tax cuts on October 1 may have eased the outlook.
However, the combination of the two figures paint a picture of stressed consumers cutting back on spending but still allowing their debts to rise as disposable incomes are stretched.
The 0.4% fall in outstanding balances in October was the biggest fall since a 0.8% fall in July 1998 when the New Zealand economy was reeling from the Asian financial crisis and a drought. The annual growth rate fell to 6.5%, its lowest annual growth since August last year.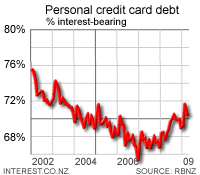 Meanwhile, the interest bearing portion of credit card balances rose 0.5% in September from August and is up 11.3% from the same month a year ago. The interest bearing portion of this debt has been growing at annualised rates of 10-12% during the last 5 months, while overall balances have been growing at between 6-7%.
This has become increasingly expensive debt as both the overall interest rate and the rate for the interest bearing portion has risen in the last year. The interest bearing rate has risen to 19.8% from 19.1% a year ago and has remained flat at 19.8% since July despite the fall in the Official Cash Rate from 8.25% to 6.5%.
The overall effective rate on all advances is 13.9%, up from 12.8% a year ago and up from 13.7% in July when the Reserve Bank started cutting the OCR.
* This article was first published yesterday in our daily subscription newsletter for the banking and finance industries. The email costs NZ$365 per annum and carries exclusive news and analysis for New Zealand banking and finance industry executives, regulators and investors. 
Sign up for a free trial here.