Housing affordability improves dramatically in October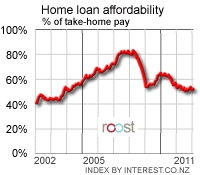 A perfect storm of tax cuts, wage growth and lower interest rates have combined to improve housing affordability to its best level in more than 2 and a half years, the Wizard Home Loans Affordability report for October shows. Tax cuts on October 1, strong wage growth in mid 2008 and a drop in interest rates to well below 9% improved housing affordability to its best level since May 2006. This was the second biggest monthly improvement on record. The national median after tax income rose almost NZ$20 a week in October, thanks to tax cuts and higher wages, while a significant drop in interest rates cut the expected mortgage payment by almost NZ$10 a week. These combined to reduce the proportion of an after tax median income needed to service the mortgage on a median priced home to 68.2% in October from 71.2% in September, a 3% improvement. The biggest improvement on record was in August this year when this ratio improved by 3.2%.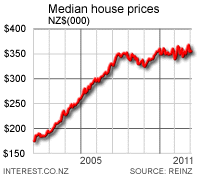 Housing affordability has improved from its record worst level of 83.2% in November last year when house prices hit their peak. However, affordability remains considerably worse than the 45% seen in 2003 before the housing boom. House prices were basically stable in October, but have trended lower in recent months as disposable incomes remained under pressure and sales volumes have slumped. "The trend since early 2008 of improving home loan affordability is now clear," said John Grant, Wizard Home Loans, Director, New Zealand Business. "All four factors of house prices, incomes, tax rates and interest rates are working together to make housing more affordable for many," Grant said. "Expected interest rate cuts later this year will further improve affordability into 2009," he said.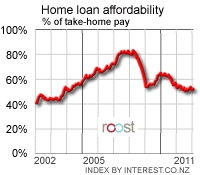 "The credit crunch is hurting many in the global economy, but better housing affordability is one of the silver linings that first home buyers can look forward to through the difficult months ahead." This monthly report measures the proportion of a median after tax income needed in each part of New Zealand to service an 80% mortgage on the median house price in that region. The report also shows an improvement in the proportion required for a first home buyer (someone aged 25-29 that has saved 20% of their after tax income in the previous five years) buying a cheaper house (first quartile price). The first home buyer's affordability ratio improved to 58.6% in October from 62.2% in September and is also back at its best levels since May 2006. This is the biggest one month improvement on record. Affordability looks set to improve through late 2008 and into early 2009 as interest rates fall at the same time as house prices keep falling. Most economists expect the Reserve Bank to cut the Official Cash Rate by a further 100 basis points to 5.5% on December 4, with many seeing this key rate falling to as low as 4% next year. However, most home-buyers are still forced to pool around two median incomes to afford the mortgage on the median house.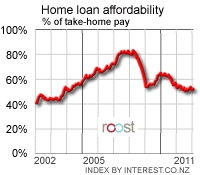 The biggest driver in the improvement in October was after tax income, which was largely due to tax cuts and strong wage growth. The average two year fixed mortgage rate fell to 8.24% by early November from 8.62% in early October. The median house price rose to NZ$335,000 in October from September and remains down 5% from its peak in November 2007. The biggest improvements in home loan affordability were in Auckland, Waikato-Bay of Plenty and Nelson/Marlborough, where house prices fell significantly. Northland and Taranaki were the only areas to experience a deterioration in affordability because of higher house prices. Nine out of the 12 regions posted improvements in affordability, while two saw deteriorations and one (Southland) was unchanged. Southland remains the most affordable region with its ratio at 44.2%, while Central Otago Lakes (Queenstown, Wanaka) was the least affordable at 104.3%.