Bank of England slashes rate to 54 year low of 3%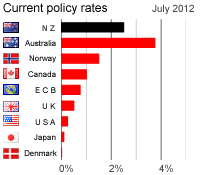 The Bank of England shocked the market overnight by cutting its key interest rate by an unprecedented 150 basis points to 3%, it's lowest point since 1954. The most bearish commentators had expected 100 basis points and the consensus was around 75 basis points. The Bank of England's biggest cut previously was 1% in the 1993 recession and the central bank has never moved interest rates by more than 50 basis points since it was made independent in 1997 by then Chancellor of the Exchequer Gordon Brown. "It's a spectacular move and it confirms that the [central bank] has finally woken up to the seriousness of the situation facing the U.K. economy," said Jonathan Loynes, chief U.K. economist at Capital Economics in London was quoted as saying in the Wall St Journal.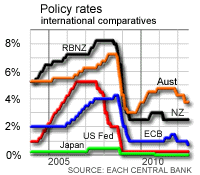 "But there's much more work to do. Even at 3%, U.K. rates are still well above those in the U.S. when the economic outlook here is arguably even worse than in the U.S," Loynes said, predicting British rates would fall to 1%. The European Central Bank also cut its official rate overnight, but by only 50 basis points to 3.25%, which was in line with expectations. The big rate cuts reinforce the market fears about a dangerously fast slowdown in the British and continental European economies. They will also ratchet up the pressure for a big cut in the Official Cash Rate by the Reserve Bank of New Zealand on December 4. Current expectations are focused around a 50 basis point cut to 6%, but the odds are shortening on a 75 basis point cut or larger if the global economy continues to deteriorate. Meanwhile, The Dow was down more than 4% in late trade on fears GM may not survive and on surprise news that Las Vegas Sands Corp, the casino group, is likely to default on over US$8 billion of debt later this year because of weaker US gambling revenues and problems with its huge Asian expansion in Macau and Singapore.