Dairy prices halve, back to 2006 figures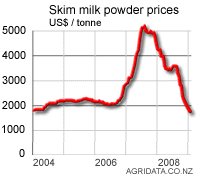 World dairy prices are falling fast, suggesting that the dairy bubble is the latest in a line of commodity bubbles to burst. World prices are now almost back to where they were before the dairy price boom began in mid-2006, about half of what they were at the boom's height. Data from
agridata.co.nz
shows that world dairy prices have been falling steadily since the last quarter of 2007, with the exception of butter prices, which have only recently in the last few months fallen by almost a third. The average price of skim milk powder has fallen by more than 50% from its August 2007 peak of US$5,200 per tonne. In the last week the price has fallen to US$2,400/t. The price of skim milk powder had been hovering just above US$2,000/t until it began to rise in mid-2006. It has fallen steadily since its peak.
Whole milk powder prices were the next to fall. From their peak of US$5,050/t in October 2007, the average price this week fell to US$2,850/t. However, whole milk powder may see a brief resurgence following the recent melamine scare in China, as authorities there try to restore consumer confidence in the local milk supply. Cheddar cheese prices are now sitting at an average of US$3,875/t. They began to fall from their height of US$5,500/t in early January this year. Butter prices have been the latest to fall. Prices held out at their peak of just over US$4,000/t until as recently as August, but have fallen steadily in the last few months to US$2,850 this week. Only 13 dairy farms sold in New Zealand in September, following a steady decline from 57 sold in February 2008. Total farm sales in September reached their second lowest monthly figure since agridata.co.nz began recording sales figures.
An increase in credit available to the rural sector underlined the dairy price boom. The fall in commodity prices will make it even more difficult borrowers to meet debt servicing requirements. In September
the National Bank reported
that debt servicing costs as a percentage of gross revenue had risen to 25% from 15% for dairy farms. The fall in dairy prices is the latest in a line of commodity bubbles that have burst, including iron ore and oil. Petrol prices in New Zealand have just fallen further to NZ$1.74/litre.