Lifestlye block sales now falling fast too, says REINZ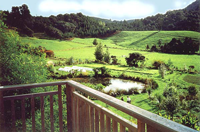 Lifestyle block sales volumes are now slumping in line with the fall in the housing market, the Real Estate Institute of New Zealand (REINZ) said. Farm sales volumes also dropped, although medium dairy farm prices reached a record high in the three months to August. National sales volumes in the three months to August were 1,050 - down from 1,105 in July and 1,752 in the three months to August 2007. "Again the lifestyle market showed every sign of resisting the trend of the residential property market and the lifestyle median price was unchanged at $450,000. However, sales continued to decline in line with residential trends, down from 1,105 in July to 1,050 nationally to August, a big drop on the previous corresponding figure of 1,752 to August 2007," REINZ rural spokesman Peter McDonald said. The median sales price for dairy farms continued to rise to a record figure of NZ$4.65 million in the three months to August, with the number of sales dropping to 67 in the three months, down from 89 in the three months to July. "Confidence in the dairy sector seems to know no bounds and there continues to be greater demand for dairy properties than what's on offer," McDonald said.
"[T]he fundamentals of the dairy industry remain very sound and aggregation is another one of the key drivers of rising farm prices as existing farmers seek to reinvest their returns by enlarging properties through acquisition. Plus investors are also keeping the pressure on prices with keen buying interest in what they see as a hedge against declining asset values in the cities," he said. Interest.co.nz keeps monthly farm sales volumes figures. In August, 19 dairy farms sold, down from 23 in July and 57 in February. A total of 146 farms (all types) sold nationally in August. In June, the figure was 216 and in February 272 farms were sold. The number of finishing farms sold nationally in August was 15, down from 31 in July. In Wellington, the median lifestyle block sale price dropped to NZ$340,000 in the three months to August, down from NZ$451,500 in the three months to July. Sales volumes only dropped from 56 to 55. For the same two periods in Auckland, lifestyle block sales volumes dropped from 138 to 128. The median sale price rose from NZ$682,500 to NZ$750,000.