Services sector still contracting, negative GDP in Q3 likely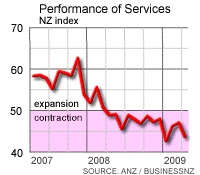 New Zealand's services sector contracted for the fifth consecutive month in August, the Bank of New Zealand (BNZ) - Business NZ Performance of Service Index (PSI) shows. These figures, along with weak retail sales results on Friday, indicate the economy's recession will extend through to the end of the September quarter, increasing the chances of further cuts in the Official Cash Rate by the Reserve Bank. The seasonally adjusted August PSI score was 47.9, one point down from July and 11.5 points below the August 2007 figure. A PSI score below 50 indicates contraction and a score above 50 indicates growth in the sector. The combined PMI (Performance of Manufacturing Index,
released last week
) and PSI look ugly, with more evidence of negative third quarter GDP, BNZ's head of research Stephen Toplis said. Toplis said that the 50 basis point cut in the Official Cash Rate (OCR) by the Reserve Bank of New Zealand (RBNZ) would offer some respite for the services sector. "It is interesting to note that both the PMI and PSI have retreated since the last rate cut by the RBNZ. In this regard it will be interesting to see if any optimism is forthcoming following last week's surprise slashing of the OCR by 50 basis points," Toplis said. "In theory, the slump in rates should be great news for corporate New Zealand, but we remain wary that the ongoing funding pressures faced by the banking sector will result in a continued deterioration in lending conditions for many," he said. Of the indexes that make up the PSI, 'activity/sales' recorded its lowest score of 41.2. 'Employment' also contracted, with a score of 48.1. The recent
Manpower Employment Outlook survey
indicated that employment prospects were weakening due to the current economic downturn. "Of particular concern was the extraordinarily low reading (41.2) for activity and sales which sits well with our view that Q3 will produce the third consecutive negative quarter of growth for the economy," Toplis said. Three indexes experienced expansion: 'New orders/business' (50.2); 'stocks/inventories' (53.2); and 'supplier deliveries' (51.3). 'Property and business services' (47.7) experienced contraction along with 'wholesale trade' (46.5). 'Retail trade' experienced its lowest score since the survey began (43.2). Regionally, the PSI indicated that the Central Region experienced growth in the services sector for the month of August, with a score of 55.4. Northern region contracted (47.3), as did Canterbury/Westland (47.7). Otago/Southland dropped to 39.3 in August, down from 40.4 in July, but up from 36.1 in June. All four regions were experiencing growth between scores of 58 and 60 in August 2007.