Median house sale price down 5.7%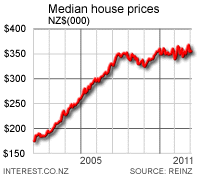 The median price of houses sold was down -5.7% nationally in August from the same period last year, from NZ$350,000 to NZ$330,000, according to data released by the Real Estate Institute of New Zealand (REINZ). This is the biggest year-on-year drop in the interest.co.nz series dating back to 1997. The median sale price in July was NZ$340,000. Days to sell fell slightly in August to 55 from 58 in July, although this is still up considerably from 33 a year ago. The national lower quartile sale price fell -5.9% from August last year. Three regions experienced median sale price increases from July. They were Auckland, Wellington and Southland. "The Auckland median improved from $421,000 to $423,500 in August and their days to sell fell from 52 days to 48 days, which is perhaps surprising given the exact opposite was the case in Auckland in July," said REINZ National President Murray Cleland.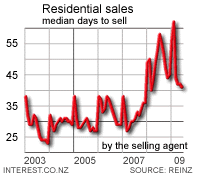 Central Otago Lakes led the median sale price drop from July, down -18%, from NZ$565,000 to NZ$465,000. Northland was down -10%, from NZ$315,000 to NZ$285,000. Two regions experienced median sale price increases from August last year. They were Southland (up 8%) and Manawatu/Wanganui (up 7%). Days to sell in Auckland fell to 48 days in August compared to 52 in July. The figure was 31 a year ago. In Taranaki, day to sell fell to 51 from 73 in July. In Southland they fell to 50 from 59.