Terms of trade negative in June quarter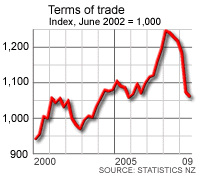 New Zealand's terms of trade index in the June quarter was -0.5% for merchandise and -3.4% for services. June was the first quarter in which the terms of trade index had not risen since September 2006. Both are up from the same period last year, led by a strong rise in merchandise export prices. The combination of a weakness in dairy prices and the high cost of oil imports at a time when the dollar was high may be seen as the cause for the negative figures. As the dollar continues to fall, import prices will continue to rise.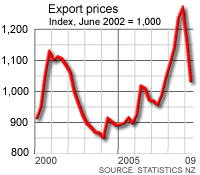 Both the export and import price indexes for merchandise continued to rise, up 4.4% and 4.8% respectively. For services, the export price index was 1.3% and the import price index 4.9%. For merchandise, the percentage change from the same quarter last year was 18.8% for export prices and 7.5% for import prices. The merchandise terms of trade was up 10.6% from June 2007. In the services sector, export prices were up 6% from June last year and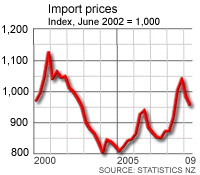 import prices were up 4.6%. The terms of trade for services in June was up 1.3% from a year ago. See
here
for a video on dairy prices falling 10-15% in one week at the start of September. Last week, the
ANZ Commodity Price Index
showed a 7.5% fall in world dairy prices in August and a 10.1% fall in aluminum prices since July.