Wet lettuce helps drive annual food price inflation to 7.6%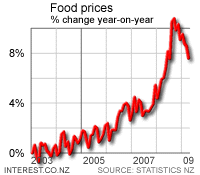 Lettuce prices rose 32.4% in July and were a significant factor in driving 0.6% food price inflation for the month, with annual food price inflation at 7.6% in the year to July. The annual inflation rate is down from 8.2% in June, but remains uncomfortably high due to significant increases in dairy, bread and other grocery items affected by higher global food prices rather than than seasonal factors. It keeps the pressure on the Reserve Bank to be cautious in its programme of cuts in the Official Cash Rate later this year. Wet weather in July also helped drive cucumber prices up 27.9%, while tomato prices fell 14.6% and nectarine prices fell 32.3%. Here is the full release from Statistics New Zealand below.
Food prices increased 0.6 percent in the July 2008 month, Statistics New Zealand said today. The increase was mainly due to higher prices for the fruit and vegetables subgroup (up 3.6 percent), in particular lettuce (up 32.4 percent) and cucumber (up 27.9 percent). The most significant downward contributions to fruit and vegetables came from lower prices for tomatoes (down 14.6 percent) and nectarines (down 32.3 percent). Other subgroups to increase were grocery food (up 0.5 percent), restaurant meals and ready-to-eat food (up 0.6 percent), and non-alcoholic beverages (up 0.4 percent). The most significant upward contribution to grocery food came from higher prices for yoghurt (up 9.2 percent). Meat, poultry and fish prices decreased 1.0 percent. The main contributor to this decrease came from lower prices for fresh chicken (down 7.1 percent). For the year to July 2008, food prices rose 7.6 percent. All five subgroups recorded upward contributions to the annual increase, with the most significant being the grocery food subgroup (up 11.2 percent). Within this subgroup, the main contributions came from higher prices for bread (up 19.6 percent), cheddar cheese (up 59.3 percent), butter (up 89.4 percent), and fresh milk (up 10.2 percent).