New Zealand dollar dives to 68.2 US cents (Updated)
The New Zealand dollar is dropping like a stone. (Updated to include detail on Japanese GDP slump). The Kiwi dropped to 68.2 US cents in Wednesday afternoon trade and has now dropped 10% in the last 3 weeks since the Reserve Bank surprised markets by cutting the Official Cash Rate to 8% from 8.25% and signalled further rate cuts. However those future rate cuts were predicated by Reserve Bank Governor Alan Bollard on a slowing of inflation pressures and provided "there is no excessive exchange rate depreciation." A 10% fall in the currency inside 3 weeks sounds excessive. Economists and markets had been expecting the Reserve Bank to cut the OCR by at least a further 25 basis points when the bank next decides on monetary policy on September 11. Some had even suggested a 50 basis point cut to 7.5% was possible.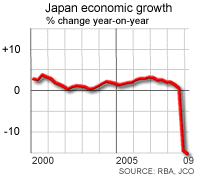 What's your view now? Is a rate cut still sensible? Might the Reserve Bank hold back? Should the Reserve Bank hold back? The reason for the sharp fall at 2 pm was not immediately clear, but the discussion below is instructive. Japan's GDP contracted at an annualised rate to 2.4% in the June quarter because of lower exports and consumer spending, data released this afternoon showed. Demand from Japanese retail investors for New Zealand dollar Uridashi bonds has been a major factor in our currency's rise from 2003 to 2007. When things get tough at home some investors might be more likely to bring their money home. Another theory is a slow Japanese economy reduces demand for commodity exports, therefore reducing commodity prices and dragging down the "commodity" currencies of the New Zealand and Australian dollars.