Have your say: Should Telecom be split? Should we care?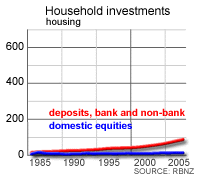 We don't often talk about Telecom on this site because we tend to focus more on interest rates, the economy, banks, finance companies, exchange rates and the Reserve Bank. The stockmarket has become less interesting to most New Zealanders over the last 21 years since the 1987 stock market crash as investors have invested more heavily in the housing market, taken on more mortgage debt and have put more of their savings into banks and finance companies. The New Zealand Stock Exchange has stocks on it worth around NZ$57.8 billion, of which only a small portion is owned directly by New Zealand investors. The dominant investors in our market are Australian pension funds.To put this into context, New Zealand individual investors have around NZ$90 billion in bank term deposits and about NZ$9 billion in finance companies and mortgage trusts, although about NZ$5.6 billion of that is now frozen or gone. On the other side of the ledger New Zealanders own houses worth over NZ$700 billion and have NZ$170 billion of mortgages.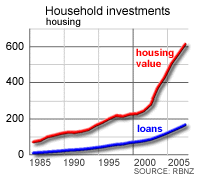 The end result is that we care more about house prices and interest rates than we do about the stock market. But even then, one company is of interest to most New Zealanders because almost all New Zealanders are a customer of this company in one form or another (often more than once) and many are shareholders (about 40,000). Telecom is still New Zealand's biggest listed stock and one of its biggest businesses. It is also now trying to sell up to NZ$300 million worth of TeleBonds with a range of maturities from 3 to 5 to 7 years. Telecom has a single A rating from Standard and Poor's. This is investment grade, but less than the AA ratings offered by the big banks. The 7 year bond is offering 8.65%, the 5 year bond is offering 8.5% and the 3 year bond is offering 8.25%. Finally a positive yield curve. We should care about what happens to Telecom. So it's interesting when an activist fund manager decides to challenge the Telecom board and management to structurally split the company into a retail arm and a wholesale or network arm, with one of them to be sold off potentially. Elliott International LP is a fund manager with about 3% of Telecom and has put up two independent directors for election to the Telecom board. More details are here. This is all very unusual in New Zealand, which has a relatively cosy investment and corporate community where open challenges to directors and management are very rare. It's also a welcome development. Our fund managers (Brook Asset Management and Milford Asset Management excepted) haven't been nearly activist enough. It's taken a while, but finally someone has challenged Telecom's management and board publicly over the woeful share price performance of the last nine years. Shareholders were no doubt active in removing former Chairman Rod Deane and former CEO Theresa Gattung. Most wanted to give new CEO Paul Reynolds (appointed September last year) and new Chairman Wayne Boyd (appointed July 2006) a chance to turn it around. Instead they have seen Telecom's profitability worsen and it take a more conciliatory stance towards the government, although not to the extent of agreeing to structural separation. Telecom decided to go for an operational separation where the Chorus network operation unit is still owned by Telecom but is operated separately. This has yet to prove itself. Time will tell whether Elliott's move acts as a lightening rod for investor dissent. The bulk of Telecom is owned by Australian pension funds, many of whom have cheered on the bolshie CEO of Telstra, Solomon Trujillo, as he has regularly clashed with the government and regulator to protect profits. I suspect many of these funds want Telecom to more muscular in its approach to regulation to defend its monopoly and its profits. What is your view? Is structural separation a good idea for both customers and shareholders? Should operational separation be given a chance? How well is Telecom performing? A good investment at these prices?