Property values have flattened in the last few months, QV says
QV, the government valuation agency, released their February indices today on residential property showing the rate of property value growth in urban areas has begun to slow, even more in rural residential areas where house values have actually decreased over the last 3 months.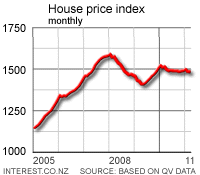 QV said figures looking at a year on year change for February show a change of a 5.5% increase, but values in the last few months have flattened in many areas and values at a national level are 3.9% below the peak of the market in late 2007. "The annual change in values across New Zealand has continued to increase from last month, but this is masking what has happened in the most recent months. In the main urban areas, values have grown since mid 2009, but that rate of growth has recently begun to slow. In the provincial areas, this growth has slowed even more, and across the rural residential areas house values decreased slightly over the last month," Glenda Whitehead of QV Valuations said The figures for the national average sales prices show an increase of $416,074 in February, up from $409, 807 in January, QV said. The national average of sales prices is less reliable than the QV index as averages, they said, as it depends which part of the market is active. High end of the market properties are continuing to sell quickly but 'less desirable' attributes are proving hard to shift and banks are cautious in lending with properties where the borrower has a 'relatively' low deposit, Whitehead said. Fewer property investors are buying at present prior to announcement of the May budget and the decision over property tax, QV said. "We expect values to stabilise over the coming months reflecting the ongoing uncertainty around economic factors such as employment, pending interest rate rises and continued tight lending criteria. We may see more certainty in the market after the May budget announcement when personal tax cuts are known, changes to property taxation are specified, and interest rate changes are clearer" said Whitehead. Values in the Auckland Region have continued to increase in recent months and are now 8.7 percent up on the same time last year. The Wellington Area is 6.7 percent up, and Christchurch 6.9 percent up. Values in the other main centres have been stable in recent months, but still remain above last year by 4.3 percent in Hamilton, 1.0 percent in Tauranga, and 6.2 percent in Dunedin. Unlike the main centres, values in the provincial centres have been more variable over recent months, although values are still above the same time last year in almost all areas. Rotorua is 2.5 percent up, Gisborne 2.6, Napier 5.9, New Plymouth 7.9, Wanganui 1.1, Palmerston North 6.1, Nelson 5.5, Queenstown Lakes 0.8, and Invercargill 4.3 percent. Whangarei is the only centre still below last year at 1.8 percent although this has improved since last month.