Why Allan Hawkins is glad to have avoided retail debentures & property finance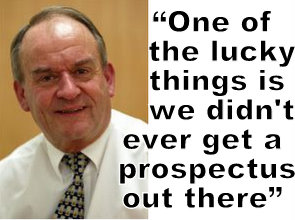 Why Allan Hawkins is glad he avoided retail debentures & property finance
Allan Hawkins, a 1980s high flyer who crashed to earth with a spell in jail in the 1990s, says he's relieved his company Cynotech Holdings never quite tapped the retail deposit market and has largely avoided property finance.
Cynotech Holdings recently posted a NZ$2.7 million loss for the 15 months to March after writing down the carrying value of its assets by NZ$6.4 million. The group produced a profit of NZ$2.3 million in the 2008 calendar year.
Hawkins told interest.co.nz the writedowns stemmed from the directors taking a realistic view of what they thought the current value of Cynotech's investments was, especially the loans the group was collecting on the old National Finance 2000 and Western Bay ledgers. Cynotech, whose interests also include small finance company Budget Loans, paid NZ$1.5 million for loan receivables with a face value of NZ$30 million from Western Bay Finance in April 2008. It bought the loan book of another collapsed finance company, National Finance 2000, in 2006.
Receivables impairment comprised NZ$946,000 of Cynotech's total NZ$6.4 million of writedowns with impairment of fair value loans coming in at NZ$2.6 million. Hawkins said the writedowns didn't necessarily mean some of that funding wouldn't be collected in the future because Cynotech expected it would be.
"But if a client has got no address or something like that we just don't bring in a value in our books until we get the thing paying."
After heading up Equiticorp in the 1980s, Hawkins was jailed in 1992 for four years after being found guilty of fraud involving the so-called H-fee scheme which funneled more than NZ$300 million through transactions designed to obscure their source.
Hawkins also said he was relieved the sharemarket listed Cynotech had never raised money from the public via a prospectus. Finance companies reliant on debenture funding are facing tough times thanks to the spate of finance company collapses and heightened competition from the major banks seeking to boost their retail deposit funding to satisfy new Reserve Bank rules.
Cynotech had looked at issuing a prospectus to raise debenture funding two or three years ago Hawkins said, but ultimately pulled it before it was issued.
"One of our lucky things is we didn't ever get ever get a prospectus out there," Hawkins said. "We did look at it at one stage going quite a long way back and we said 'this is just going to get nowhere'."
Cynotech was currently in a phase of repaying borrowings, including to banks, with NZ$1.4 million repaid in the 15 months to March. Cynotech still had bank debt of "something under a million" dollars left and was looking to repay that. Hawkins declined to say who the company's banks were, although the group's interim report names ASB and ANZ.
Meanwhile, he predicted tough times for the property development finance sector would continue with it "going nowhere" for three to five years.
"Some of the developments have become unsalable and it's no use trying to access a value of a development when there's no buyers anyway. Fortunately for is, I don't know whether it's good luck, we've stayed away from that."
After lifting his stake in Cynotech to 78% from about 24% through a takeover offer from his private company Cynotech Securities earlier this year, Hawkins said he wasn't looking to increase this or delist the company at this stage.
 * This article was first published in our email for paid subscribers earlier today.See here for more details and to subscribe.