CEO Chris Kelly confirms Landcorp to bid for Crafar Farms and use debt to pay for it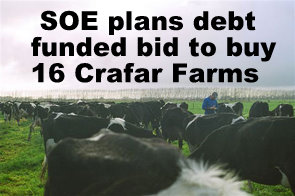 Landcorp Chief Executive Chris Kelly has told Interest.co.nz the state owned enterprise will bid to buy the 16 farms in the Crafar Farms group from receiver Korda Mentha.
Kelly said Landcorp planned to submit its bid by July 7, but would offer significantly less than the rumoured amount that May Wang and UBNZ had bid for Crafar Farms, which was put into receivership last year owing over NZ$200 million to its bankers Westpac, Rabobank and PGG Wrightson. 
Landcorp had a relatively low level of debt (around 13% debt to debt plus equity) and planned to structure a proposal to raise debt to pay for any acquisition, Kelly said. The government had been informed and viewed any bid as an operational matter.
"We believe if we secure these funds for a current market price we can add value and make money for our shareholder," Kelly said.
"We don't expect the government to put in any equity and we won't be asking for it," he said.
UBNZ and Wang had been rumoured to have offered a price above market value and Landcorp would not pay above market rates, Kelly said. 
Kelly said Landcorp had had brief discussions with the New Zealand Superannuation Fund and possibly other funding partners, but Landcorp was able to raise funds on its own.
Landcorp has 105 farms, including many on the Central Plateau of the North Island near farms in the Crafar Farms group. He said Allan Crafar and his family were current squatting illegally on the farms and he did not see a role for them in managing the farms.
"I know Allan and he did a lot of good, but he tried to go too far too fast," Kelly said, adding he expected any sale would be 'clean' with empty houses included.