St Laurence investors' unlikely to get much from NZ$20 mln Kevin Podmore guarantee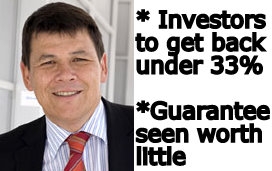 A NZ$20 million guarantee from managing director Kevin Podmore that never appears to have been worth $20 million looms as perhaps the best hope for St Laurence's thousands of investors to get back more than a third of the NZ$247 million they're owed by the defunct property financier.

St Laurence's receivers, Barry Jordan and David Vance of Deloitte, released their first report yesterday since their appointment by Perpetual Trust on April 29. They estimate St Laurence secured debenture holders are likely to receive back a maximum of 32 cents in the dollar, including the 10c they got under the company's moratorium plan. In addition to this, Jordan and Vance said debenture holders should get between 15c and 22c over the next 18 months.

Jordan told interest.co.nz he had not factored into this range a NZ$20 million guarantee provided by Podmore and associated companies Auguste Finance, Neuhaus Stonefields, and Auguste Albany as part of St Laurence's moratorium plan in 2008. Under the guarantee they pledged to pay NZ$20 million if St Laurence was placed in receivership or liquidation 15 months after the date of the receiver or liquidator's appointment and there was a shortfall in repaying debenture holders.

However, according to PricewaterhouseCoopers' independent appraisal of the moratorium plans, the guarantors' shareholder funds did not meet the NZ$20 million threshold at the time of their report. And in April Podmore told interest.co.nz shareholder funds were then only worth about NZ$4 million.

Jordan said Podmore had provided the receivers with statements of financial position which showed the situation was little changed from April.

"If it was called up today we would probably not get a lot out of it and certainly not the (NZ$20 million) face value," Jordan said.

"But we might get more in 12 months time."

He declined to say what assets the guarantors' had and Podmore didn't return calls seeking comment yesterday. In April Podmore, who was receiving a NZ$450,000 annual salary from St Laurence, told interest.co.nz he personally only had "minimal" assets left.

Jordan said Podmore had co-operated with the receivership team from day one as had all St Laurence's directors and management. Furthermore Podmore was well aware of the obligations he had made.

In 2008 PwC said the guarantors' most recent financial statements suggested it would be very difficult for them to raise NZ$20 million at that time. It would be prudent to assume the guarantee would not substantially change the cash available to investors in a receivership. Nonetheless PwC partners John Waller and Bruce Wattie said failure to raise the NZ$20 million could trigger personal bankruptcy for Podmore and the guarantee was a statement of commitment by him that firmly linked his interests with those of St Laurence investors.

Jordan said another factor in investors' potentially getting back more than 22c was whether the receivers could extract anything from a number of loans St Laurence had written off as uncollectable before the receivership.

"There are a number of guarantees in there that through our searches and investigations we have found out there is potential recovery in some of those loans," said Jordan.

"(But) it would take a NZ$2 million transaction to lift the payout range by just one cent so there has got to be quite a lot of those to move the range significantly."

There were parties interested in acquiring St Laurence's loan book, he added. It has a face value of NZ$74.7 million before provisions. All but one of the loans in the book was in default when the receivers were called in. Jordan acknowledged it was not very attractive to potential buyers and that a sale was very unlikely to increase returns to investors' and could in fact decrease them. By net recoverable value about 60% of the loans were in Australia.

An insolvent St Laurence was dumped into receivership by its trustee Perpetual Trust in April. The receivership came after Podmore proposed a debt for equity swap to try and stave off receivership. Perpetual's Matthew Lancaster warned at the time that if the proposal went ahead it would release Podmore from his personal guarantee.

St Laurence investors voted in December 2008 for a moratorium which gave the company until 2013 to pay back much of the monies owed. The balance owed to investors might not have been paid until 2021 in some cases, and 2034 in others. At the time of its receivership St Laurence had paid back NZ$30 million.

The receivers' report puts St Laurence's total debts and liabilities as of April 29 at NZ$247.35 million. Some 9,431 secured debenture holders were owed NZ$234.8 million. However, capital note holders owed NZ$12.3 million and unsecured creditors owed NZ$235,000 are unlikely to get anything back.

Jordan said the Securities Commission had been in touch with questions about St Laurence's disclosure leading up to its moratorium. At this stage the receivers hadn't, however, seen anything that warranted an investigation into St Laurence by the Securities Commission.

 

Interest.co.nz's Deep Freeze list of finance company failures shows over NZ$6.6 billion has been frozen in almost 200,000 accounts since the crisis began in 2006.

* This article was first published in our email for paid subscribers earlier today. See here for more details and to subscribe.