Uncalled capital facility provided to NZ Post to prop up credit rating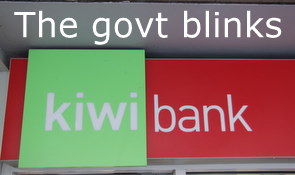 The government has agreed to a request from NZ Post to provide an uncalled capital facility valued in the "low hundreds of millions" of dollars to the group to help maintain its AA- credit rating and enable subsidiary Kiwibank to expand.
(Updated with lower Kiwibank profit, full media powerpoint pack, comments from conference call on capital facility being in "low hundreds of millions" and announcement of Knowles' successor being 2-3  weeks away, also Kiwibank planning to raise a about NZ$250 million through bond issues overseas, plus news conference quotes from Brian Roche and Sam Knowles.)
Finance Minister Bill English and SOEs Minister Simon Power said the move followed a request from the NZ Post board for support from shareholding Ministers to enable the company to preserve its credit rating while Kiwibank continues with its current growth-focused business plan.
"We're confident this provision of uncalled capital, on commercial terms, will give NZ Post and Kiwibank the financial certainty they need to pursue their plans," English said.
English and Power said the move sat alongside other government measures such as allowing Kiwibank to retain profits and requiring a lower dividend from NZ Post. The exact size of the facility will be reviewed over time in line with the needs of NZ Post.
NZ Post will be able to call on the capital only in certain defined circumstances, such as Kiwibank experiencing a substantial shock event beyond its own resources and beyond the resources of its parent.
NZ Post said the uncalled capital was a vital plank in maintaining an AA- credit rating with international credit rating agency Standard & Poor's that enables it to compete with Australian owned rivals ANZ, ASB, BNZ and Westpac. S&P rates both NZ Post and Kiwibank AA- with a stable outlook.
"That rating is required if Kiwibank is to continue to grow and expand," it said.
Amount not agreed yet
English and Power said the uncalled capital provided stakeholders with the assurance the government was providing the financial support the NZ Post Group required, while maintaining a prudent approach to injecting new equity into Crown companies.
In a news conference NZ Post CEO Brian Roche said the final detail of much the backstop facility would be was still being worked through with the government.
"But it is in the low hundreds of millions. We think that's going to be sufficient. We'll continue to work with the government on the facility over time," said Roche.
Kiwibank's soon to depart CEO Sam Knowles said the credit rating would have come under threat over time if Kiwibank continues to grow at its current level. There hadn't been an immediate threat of a credit rating downgrade.
"The rating agency would've said 'do you have enough shareholder support to continue that growth'?" Said Knowles. 
Roche said NZ Post wanted Kiwibank to expand into new sectors such as business banking. He said the group didn't require a direct capital injection from the government and Kiwibank had sufficient capital for immediate growth plans, aided by the raising of NZ$150 million of tier 1 capital through a preference share issue earlier this year. Roche said the money couldn't be called on for support in circumstances such as cyclical deterioration of earnings or to fund growth activities.
NZ Post was working with the Crown Ownership Monitoring Unit (COMU) to finalise the terms and conditions under which the facility will be provided. It could only be used in an external event beyond the control or resources of Kiwibank and the New Zealand Post Group.
"The recent Global Financial Crisis has highlighted the need for groups active in financial services to have various mechanisms in place that can be accessed in the event of shock events," NZ Post said.
"Uncalled capital is one such mechanism that is not the final answer to shareholder support, but one that provides a degree of certainty and timeliness in the group's ability to respond rapidly to potential issues."
Kiwibank profit falls
Kiwibank said it made an after-tax profit of NZ$45.8 million for the year ended 30 June 2010, down 13% on the previous year.
Knowles said the results were "solid and consistent with a tough environment".
He said the bank had emerged from the world recession in strong shape and was on track to increase profit over the coming year. In the last year, Kiwibank increased lending by 23% to NZ$10.4 billion while increasing retail deposits by 3% to NZ$6.9 billion. It said only 0.3% of loans were impaired.
Knowles said the bank's performance was affected by very strong competition in the domestic retail deposit market with both the amounts deposited and margins affected.
Core Funding pressure
Knowles said the deposit market had been affected by the Reserve Bank's core funding ratio requirements. Banks must secure 65% of their funding from domestic deposits and bonds with terms of more than one year. This led to the Australian-owned banks competing more vigorously for deposits in the New Zealand market.
During the year Kiwibank raised $A250 million ($NZ309 million) through a bond issue and NZ$150 million of Tier 1 capital through a share issue by a related company, Kiwi Capital Securities Ltd.
In May Knowles announced he would resign from the bank once a replacement was found. The announcement of a replacement had been expected this week, but there has not been an announcement with this result or the capital support news.
Media conference update
Meanwhile NZ Post CEO Brian Roche later told a news conference the uncalled capital facility would be valued in the "low hundreds of millions" of dollars and that a successor for Knowles would be named in the next two to three weeks.
Meanwhile, Knowles told the conference Kiwibank planned to raise about another NZ$250 million overseas through a range of loan facilities and bond issues.
Your views? Comments below please.