SCF unlikely to recover all of NZ$9 mill loan to Paritai Drive townhouse development by former CEO Lachie McLeod (Update 1)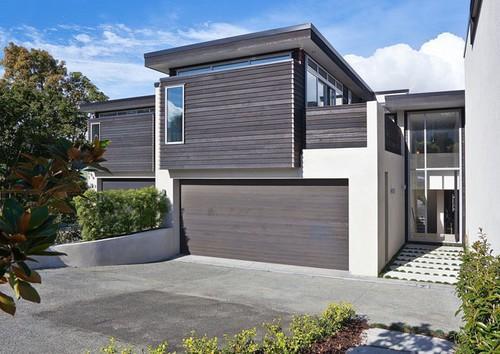 By Alex Tarrant
South Canterbury Finance is unlikely to recover all of a NZ$9.1 million dollar loan to a property development company set up by former chief executive Lachie McLeod and a former director Edward Oral Sullivan.
(Update 1 includes SCF saying no comment, receiver comment.)
A receivers' report shows the property development company, Arundel Park Limited, built six townhouses on Auckland's exclusive Paratai Drive. The company was set up in 2006 with McLeod and Sullivan as its two directors. Two of the townhouses at 139 Paritai Drive are now being sold by receivers for NZ$1.8 million each,
this realestate.co.nz listing shows
.
Arundel was originally owned by Strathallan Nominee Company, in which Sullivan was a shareholder, according to Companies Office documents.
In July 2007, the share parcel for Arundel changed hands from Strathallan to Victoria Three Trustee Limited, owned by John Robert Williams of Auckland, documents show.
McLeod and Sullivan ceased to be directors of Arundel in June and July, 2007, respectively, documents show.
SCF, as a secured creditor, was estimated to be owed NZ$9,106,288 by Arundel, receivers Stephen Tietjens and Peter Chatfield of Accru Smith Chilcott said in their first receivers' report on August 20. 
SCF was unlikely to be repaid in full, they said.
South Canterbury Finance placed Arundel in receivership in June this year after the property company defaulted on a repayment to SCF, the receivers said.
The receivers' report said SCF placed Arundel in receivership under the power contained in a general security agreement dated March 22, 2007 - which was before McLeod and Sullivan had ceased to be directors of Arundel.
Sullivan ceased to be a director of SCF in May this year, while McLeod stood down from the CEO position in 2009.
The receivers said one of the townhouses had been completed by their appointment in June, three were close to being finished, with two further units to be completed.
They said they intended to complete all six townhouses, after receiving funding support.
Four had been put on the market, with one unconditional agreement and two conditional agreements having been signed. Completion and marketing of the other two units should be done in the next few weeks, they said.
Williams, McLeod, Sullivan, the receivers and SCF could not be reached for comment on Friday afternoon. 
UPDATE 1 (Monday morning): A South Canterbury Finance spokesman said on Monday morning the company had no comment on the Arundel Park loan. Meanwhile, receiver Stephen Tietjens said it was too early in the receivership to estimate likely outcomes for SCF.