Bill English says govt moves to take pressure off SCF receiver to force quick asset sales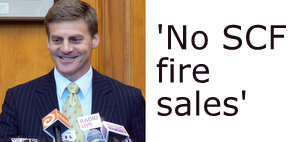 By Alex Tarrant
Finance Minister Bill English has downplayed any impact from South Canterbury Finance's receivership on the wider economy or on New Zealand's sovereign credit rating.
English argued the government had taken decisive action to control the receivership and pay back investors quickly to avoid disruption or any fire sale of dairy farming assets.
Meanwhile, he took a shot at the inadequate infrastructure at the finance company for handling the rapid growth it underwent in recent years.
English also said he hoped to "hear a bit more" from depositors and the community of Timaru and South Canterbury in terms of acknowledgement to taxpayers, who had forked out NZ$600 million for a "business that's actually gone broke".
(Update 7 adds sections 'All that's done is (hopefully) done' and 'Taxpayers deserve acknowledgement'.)
"There is no rush to realise the value of the assets is some kind of fire sale," English said.
He told a news conference in Wellington the receivership and the subsequent immediate repayment of NZ$1.775 billion to investors and South Canterbury's lead creditor would not affect the nation's credit rating.
For Standard and Poor's announcement on New Zealand's sovereign credit rating see here.
New Zealand's debt issuance program would not have to be changed, he said.
See here for results on the under-subscribed government bill tender following the receivership announcement.
English said the government had deliberately moved to take control of South Canterbury by ensuring the receiver would immediately repay prior ranking creditors, including George Kerr's Torchlight. The government loaned the receiver NZ$175 million to ensure prior ranked creditors were taken out. The government is also repaying NZ$1.6 billion to 35,000 investors.
Torchlight contributed NZ$15 million towards a NZ$100 million loan it arranged for SCF earlier this year. The loan ranks ahead of SCF's debenture holders under the finance company's trust deed and means Torchlight has a prior charge on up to NZ$151 million or 7.2% of SCF's assets.
The government also aimed to take control to ensure the pressure was off the receiver to make quick asset sales, English said.
"As a result of the receivership, the Government is moving swiftly to repay the money owed to South Canterbury depositors under the Crown Retail Deposit Guarantee. We are also taking other steps to reduce the cost to taxpayers and minimise disruption to the wider economy," English said.
Steps the Government had taken included:
* The Crown has nominated the Trustee as the eligible creditor under the terms of the guarantee and will pay the Trustee NZ$1.6 billion in full today. This will ensure depositors and stockholders are paid promptly without the need to apply to anyone.
* The Crown will today make a loan to the receiver of NZ$175 million, which allows it to repay all of South Canterbury Finance's prior ranking debts. Once this transaction is completed it will put the Crown in a position of control, as the first-ranked creditor in the receivership, so we can ensure an orderly and well-managed receivership process.
'Minimum disruption to economy'
"Ensuring all depositors in South Canterbury Finance get their deposits back as quickly as possible will ensure a minimum of disruption to the economy," he said.
English said he expected depositors to be repaid "hopefully" within a month.
"While this will incur an upfront cost, it will ultimately reduce the cost to taxpayers by about $100 million by ensuring the Crown is not liable for interest payments after the date of settlement.
"Furthermore, being in control of the receivership process takes the pressure off the receiver to quickly sell any assets. This ensures the Crown can get the best deal for taxpayers. Businesses that owe money, or are owned by South Canterbury, can continue to operate and there will be a minimum of disruption to both the local and national economy," he said.
"I think people who had been concerned about the impact on land prices, for instance – it shouldn't be an immediate impact, and maybe not a longer term impact either, depending on how the circumstances roll out."
"South Canterbury will still be operating as a business, with the existing loans in place. With the receiver there running the business, there is no pressure there to call up loans and disrupt the financing arrangements of the many businesses that have borrowed from South Canterbury," English said.
"A significant proportion of South Canterbury's loans are performing well – that is, they're loans where people are meeting their capital and interest repayments and there's no reason for that stream of finance into those communities to be disrupted."
Cost
"The up front cost to the Crown of repaying South Canterbury's depositors is about NZ$1.6 billion, but we would expect to recover the bulk of that as the receiver sells the assets over time. The final expected net cost to the Crown is already provided for in the Crown Accounts within the overall provision of about NZ$900 million for all companies covered by the scheme."
'Related party loans'
English told the news conference the net cost to the crown was likely to be around NZ$600 million after loans were recovered, however he noted that there could be some unpleasant discoveries once the bad loans were examined more closely.
"In the bad book, you might find there's a number of related party loans in there. There's a real tangle there between the bad book and him (Allan Hubbard)," English said.
He also revealed that Korda Mentha had been advising the government on South Canterbury since mid 2009.
'Could still be sold'
English said it was still an option for South Canterbury, or part of it, to be sold as a going concern.
"If the receiver gets a credible bid, we'd certainly want to hear about it. We've got Sandy Maier saying it's got more value as a whole than as parts, and you've had any number of people who, over recent months, have been having a pretty good poke at it.
"So they know it reasonably well.
"It's quite possible that now they (a potential buyer) don't have to deal with everybody – they've only got the receiver and the government – that it looks more attractive perhaps it did before."
If South Canterbury was not sold as a going concern, then it could take four to five years for the government to work through all the assets to get its money back, English said.
'Tough few days'
English said it was late last week that this move became a more of a clear option.
"The chief executive has been working pretty hard with a menu of investors to see whether he could get a recapitalisation together, and then late last week it started looking like it was, at least, not likely. And probably over the weekend it became clear it was not going to happen."
'Repaying everybody'
English said the decision to repay even ineligible depositors would simplify matters and help make sure the government had the sole interest in the receivership. However, this decision may not have been taken if the costs were much greater.
"In the first place it's a pretty minor cost," he said.
"Out of the NZ$1.6 billion it's a net cost of about NZ$20 million.
"The reason we're doing this is to simplify the receivership. They would have competing claims alongside the crown, so at a very low cost we can remove their competing claims. 
"Look, if the number was NZ$200 million we probably wouldn't do it." 
'All that's done, is (hopefully) done'
English said he was "pretty much" confident that there would be no more calls on the government's NZ$900 million provision for the deposit guarantee from other finance companies yet to fail.
"There's not many left [that are likely to fail]."
On Hubbard, SCF's rapid growth and inadequate infrastructure
English said he thought Allan Hubbard would be "as distressed as anybody" about the receivership today.
"It's not something that he would have wanted, but the combination of the rapid growth growth of South Canterbury Finance, without the adequate infrastructure to run such a large organisation and a sharp downturn in market conditions, has meant he's found himself in this position.
"As I understand it, there's been a lot of discussion with Mr Hubbard over the last 12 months over his own affairs, the affairs of South Canterbury and what contribution he could make to sorting those out.
"I think sometimes that's been helpful and sometimes it hasn't."
"There's been ample opportunity for the owners of the business to save it. Mr Hubbard himself has made considerable personal commitments, which I think have been widely respected in the community and in the financial community.
"However the options have simply run out."
'Taxpayers deserve acknowledgement'
"The underlying issue here is not a political point of view," English said.
"The underlying issue is a company that has grown fast, without growing its infrastructure to manage a multi-billion dollar enterprise, and has been caught out by changes in the market, driven by the world economy, so it's not a political matter."
"I think what everyone needs to bear in mind here is whatever your point of view about how South Canterbury's been run, or the personalities, taxpayers are ending up with a bill of NZ$600 million. There (are) a lot of other things we could have used that NZ$600 million for. 
"And I would hope that the depositors of South Canterbury, and those who are supporting the company, are grateful for the support of the New Zealand tax payer . Because without that support, Timaru and South Canterbury could have ended up NZ$600 million out of pocket.
"I would expect to hear a bit more from that community about their acknowledgement of the tax payer support of that business."
"I just think they should acknowledge that taxpayers across New Zealand are putting their hands in their pocket to the tune of NZ$600 million to honour a promise made with a business that's actually gone broke."