'Pop-up' shops and empty buildings drag ritzy Newmarket shopping district back down to $2 dollar shop earth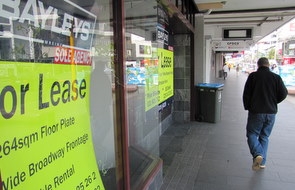 By Nick Jones
Walk down Newmarket's broadway on a rainy day and the impression is not of prosperity.
For Lease signs plaster empty shopfronts, while those still in business offer 50% off or more to entice passing pedestrians.
It is a mood of desperation that the NZ Herald picked up on in an article last month titled 'Fashion capital' loses its shine as sales dwindle.
Consumers are being cautious as the economy recovers, repaying debt and avoiding non-essential spending. Flat consumer spending the June quarter depressed GDP growth to 0.2% and weak retail sales in recent months have been a factor in the Reserve Bank's decision last week to dramatically reduce its economic growth and interest rate outlook. Deleveraging is dragging on the retailing sector in a way many had not expected.
A survey of businesses by interest.co.nz on Broadway's Eastern side from Railway St in the North to just past Remeura Rd in the South showed a patchy recovery in spending and a change to transitory shops selling goods cheaply through short term leases. Some shop keepers in what has previously been seen as the ritziest shopping district in the country expressed concern that the short term and heavily discounted 'Popup' shops were lowering the tone of the neighbourhood. Newmarket is renowned for its designer fashion, shoes, cosmetics and consumer electronics stores.
Of the 37 retail shops spoken to, six said their businesses were doing very well, and a further 13 said sales were beginning to pick up again.
Six businesses could not identify an overall trend because their sales fluctuated wildly from week to week.
Ten stores said sales were as bad as this time last year, and two said business had never been so bad.
Twelve stores were empty. Five of those had been leased out to new tenants.
Three stores were having closing down sales, but all said they were motivated by the end of short term leases or overseas moves.
Eight stores had sales advertised on their storefronts, but six of those said the sales were routine. One of the shops on eastern side of Newmarket was a type of $2 shop selling cheap trinkets, toys and other plastic pleasures.
'Work harder and be smarter'
Of the 19 stores who said sales were good or improving, they credited their niche and/or quality products and the successful fostering of a loyal customer base.
Interest.co.nz waited ten minutes to speak with Liza Shieff, the owner of Be Ba Bo European toy shop, while she gift-wrapped a purchase for a customer.
She said her shop was doing "fine" one year after opening, and it was important to treat customers well.
"You need to look after them in a recession, and they'll come back," she said.
Manager of Modes women's fashion store, Diane Stevenson, said her store had been in Newmarket for 26 years and had to "work harder and be smarter" to maintain their sales, despite a loyal customer base.
The store has diversified its product, works hard to promote and advertise itself, and went the extra distance for customers by providing services like alterations, she said.
Next door at Modes' outlet store, Manager Jennifer Moody said she has worked off and on in Newmarket for 22 years and the precinct was changing.
"The basic retailers are still here and trading well, but there are plenty of empty shops too. Rents are a big killer, they haven't been adjusted to reflect the slower period" she said.
Her own shop is on a temporary lease, but the premises have been up for sale since February.
Temporary leases
The owner of clothing store Menon, Praveen Menon, said sales were up on last year and established stores were not in danger of closure.
"The ones that are struggling are the temporary or low quality stores. People come to Newmarket come for the quality," he said.
Cosmetics store L'Occitane en Provence Manager Ruby Yen said the empty stores hurt Newmarket's image as a high-end shopping destination.
Owner of shoe store Euro Brands Carl Webb said the 'Closing Down' signs on his storefront reflected the end of his temporary tenancy rather than the failure of a permanent store.
He said there was a high turn-over of temporary 'pop up' shops in Newmarket because of low sales and "prohibitive" rents.
"There'll be a lease for 2 to 3 years, then a store will be vacant. And landlords will give short-term leases to cover some of their costs in the short term," he said.
The owner of fashion retailer Fio, another store with a 50% off Closing Down sale, said business was "not too bad and getting better" but the store was closing as her husband was moving to China.
The Manager of clothing store Mark Richard, who did not want to be named, said temporary stores put pressure on permanent retailers margins.
"They bulk buy a bunch of stock from Asia, and then aggressively push it with huge discounts until it runs out. Then their lease ends and they leave," he said.
A mixed bag
While many of the closing down sales and empty storefronts are the result of short term leases ending, other retailers are hurting too.
Shop Assistant at Lush cosmetics, Sian Thorburn, said sales for the store halved after it moved premises from the 277 shopping mall to Broadway.
Like other stores spoken to, Thorburn said their sales had inexplicably fluctuated.
"July and August were amazing for sales, and now they're the worst ever. There's no method to the madness," she said.
A majority of retailers spoken to said they hoped the onset of Summer would bring more foot traffic to the precinct and stronger sales.