PM Key says very little Govt and RBNZ can do in face of currency wars, high $NZ; US and China need to sort it out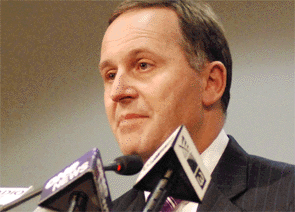 There is very little the New Zealand government or the Reserve Bank of New Zealand can do about the currency wars between the world's major economies and the rising New Zealand dollar, Prime Minister John Key said today.
Key told a post-cabinet press conference that the government had always had some concern as the New Zealand dollar rises against the US dollar on the back of the weak domestic situation in the US.
The New Zealand dollar sat at 75.5 USc late this afternoon, and is up from 72.8 USc a month ago.
"We're at the level where it is starting to create some concern [for exporters]," Key said.
Meanwhile, Key said there was very little that could be done as America and Japan prepare for mass money printing and competitive devaluations of their currencies.
"That's ultimately something that China and the US need to resolve," he said.
What was needed was a strengthening consumer base in the US, he said.