Housing market in 'downward spiral', Mike Pero-Infometrics leading indicator finds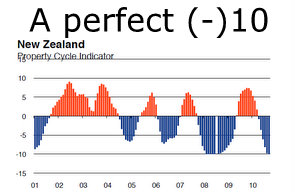 The property market continued in a 'downward spiral' in September, Mike Pero Mortgages and Infometrics said in releasing their Property Cycle Indicator (PCI).
"The nationwide PCI has dropped to its lowest possible figure, -10, for the first time in two years," says Mike Pero Mortgages Chief Executive Shaun Riley.
"This latest figure suggests that house prices will come under further downward pressure in the coming months. House sales volumes in September were down 33 per cent from a year ago, the biggest annual fall since the height of the financial crisis in late 2008," Riley said.
"The Canterbury earthquake accounted for some of the renewed weakness, but sales activity weakened even if the Canterbury/Westland region is excluded," he said.
"Last month was the first time in over a year that the median house price has not been higher than a year earlier."
The Mike Pero Mortgages-Infometrics Property Cycle Indicator fell to a negative 10.00 in September, from -9.80 in August.
The Property Cycle Indicator is leading indicator of the housing market and includes three main factors: changes in the number of houses sold; changes in price; and the time taken for houses to sell.
Auckland remained steady with a PCI of -10.00 (same as in August) and Wellington lost ground, dropping to a PCI of -10.00 (from -8.87 in August).
Northland -5.87 (-6.71) and Manawatu/Wanganui -9.19 (-9.22) were North Island regions to show a slight improvement.
Canterbury/Westland's PCI dropped further to -9.25 (a decrease from -7.87 in August), as did Nelson/Marlborough's, with a PCI of -8.80 (from -7.40).
Central Otago was the only South Island region to gain some ground with a PCI of -3.89 in September, up from -5.45 in August. Rental inflation continued to edge higher in September, reaching 3.7 per cent per annum.