Likes of Shania Twain courted to buy NZ farm as debate on overseas investment rules heats up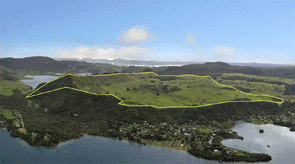 The likes of pop star Shania Twain are being courted to buy a 265 hectare block of New Zealand real estate in the Central North Island, although new overseas investment rules could stifle demand from foreign buyers.
Bayleys is marketing the Crater Lake Farm, owned by Ngati Whakaue Tribal Lands, which purchased the deer farm property in 2000.
"It's the sort of location that would suit the likes of a pop star Shania Twain – who has a high country station in Otago - where they can helicopter in and spend the weekend roving around the property or heading down to the lake for a fish without anyone knowing they were around," Bayleys Rotorua manager Beth Millard said.
Debate on foreign ownership of New Zealand farm land has been heating up in political and public circles after the government moved last month to give ministers more flexibility to reject land sales to foreigners.
The move was trumped by the Labour Party's new foreign ownership policy, announced at its annual conference last weekend. 
Most applications from foreigners to buy rural land in New Zealand would be turned down if Labour got back into power, leader Phil Goff said.
Under Labour's policy, foreigners would not be able to buy land parcels bigger than five hectares, unless the buyer created economic benefits that would stay onshore.
"We will force would-be buyers of New Zealand rural land to invest in New Zealand and our people by bringing jobs, transferring technology, increasing exports or bringing other benefits for New Zealand," Goff said. 
Plenty of options at Crater Lake Farm
Bayleys said the Crater Lake Farm property could be bought for commercial farming operations, be turned into a single lifestyle block with expansive luxury retreat, or be converted into smaller blocks.
"Subdivision consents granted earlier this year allow for more a 'farm park' style residential development - similar to those which have been established in Northland and Taupo where owners have their own lifestyle block and a shared ownership of the commercial farming operations," Millard said.
"There's an abundance of suitable building sites which would easily sustain a home of majestic proportions with unbelievable views. Conversely, to support the development of farming operations, existing buildings on the property include a manager's residence suitable for conversion to guest or service staff quarters, a woolshed, cattle yards,deer handling facilities and a helicopter hanger.
"The property has an elevated central plateau well above the various exclusive residential/lakes settlements on its lower borders – giving total natural privacy."