US Secretary of State Clinton says US prioritising Trans Pacific Partnership trade talks with NZ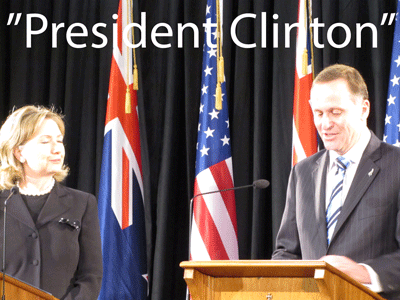 The United States was prioritising talks about a Trans Pacific Partnership (TPP) rather than pure bilateral trade with New Zealand, US Secretary of State Hillary Clinton said in Wellington today.
Meanwhile, New Zealand Prime Minister John Key said his government was concerned that Australia had a free trade agreement with the US, meaning the TPP, including the US, was a very important item.
Clinton and Key were speaking at the signing of the Wellington Declaration at the Beehive, alongside New Zealand Foreign Minister Murray McCully.
New Zealand and the US will seek to broaden commercial and trade relations between the two countries, McCully and Clinton said in the declaration.
The Declaration, would commit the two countries' to work more closely together in the Pacific and expand high level dialogue between the two, McCully said.
"We are dedicated to working together to address trade, security and development issues through APEC, the East Asia Summit, the United Nations, and other regional and multilateral institutions, McCully and Clinton said in a joint statement.
Clinton said she, Key and McCully had discussed trade issues at some length.
"We are very committed to the Trans Pacific Partnership, and New Zealand again is playing a leading role. We want to expedite the negotiations as much as possible, so we are exploring ways that we can try to drive this agenda," she said.
"I am absolutely convinced that opening up markets in Asia, amongst all of us, and doing so in a way that creates win-win situations so that people feel that trade is in their interests, and certainly no country deomonstrates that more or better than New Zealand. The emphasis the Prime Minister has placed on exports is one that President Obama has actually ordered we do similarly."
"President Obama wants to see the United States doiuble our exports over the next several years. So we are very committed to TPP," she said.
"As with any trade deal, it's day-by-day, negotiation over all kinds of issues to the satisfaction of the parties, and this is a complex negotiation."
"We're not ruling out, we're not ruling in any bilateral agreements with anybody else in the region, including New Zealand, but our priority is to really focus on the TPP and see how fast we can move that toward completion.
"I think that's very much in New Zealand's and the United States' interests."
Key concerned the Aussies have an FTA with the US and NZ doesn't
New Zealand Prime Minister Key, who accidentally call the Secretary of State, 'President Clinton' at the end of the media conference, said the significance other countries placed on the TPP could be seen by their actions that they wanted to join the original eight countries in the agreement.
"We're now seeing Malaysia coming to the negotiating table, Canada and Japan have also indicated their strong interests to potentially join," Key said.
"From New Zealand's point of view, our only real condition as a player that is at the table is we want a comprehensive and high quality agreement. Anyone that wants to join in those negotiations that can meet those criteria will be welcome participants," he said.
"From New Zealand's point of view we share the ambitions that President Obama has and we think it's very important for the New Zealand economy and we, on a purely bilateral basis, have concerns about the fact that Australia has an FTA.
"They're a very important part of our market in New Zealand so we see the Trans Pacific Parnership as a very important item to be completed if at all possible."
(Update includes Key's comments)