"I haven't campaigned on one thing and done something different," PM Key says. Your view?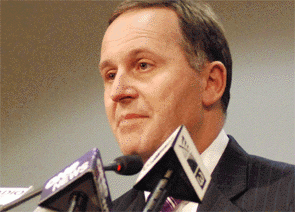 By Alex Tarrant
"That's why I've stuck to my guns, and I haven't campaigned on one thing and done something different."
That was the message this morning from Prime Minister John Key as he talked to TVNZ Breakfast host Corin Dann about the National Party's manifesto.
Key and Dann had been discussing former National leader Don Brash's comments on National's economic policies, with Dann saying Treasury had recently raised similar concerns, around whether the government could afford Kiwisaver and interest-free student loans, "and then of course Standard and Poor's. So there's quite a big weight of argument that New Zealand isn't confronting its big problems," Dann said. See a full report here on Brash's weekend speech.
"Firstly you've got to say we have confronted a lot of that," Key said. "We're spending less as a new budget increase than for a very, very long period of time – we're spending about a third of the increase that [former Labour Finance Minister] Michael Cullen did."
The constraints the government had put on itself were significant, Key said.
"We also undertook one of the most substantial tax changes in 25 years, where we raised GST and lowered personal taxes to try and fix that imbalance. We actually acknowledged the imbalances that are in the economy, and that's one of the reasons why we set up the Savings Working Group, it's one of the reasons why we've got the Welfare Working Group," he said.
Some points commentators had made were fair and needed addressing, Key said, "and you are going to see the government addressing those".
"It's probably the degree in which the prescription needs to be rolled out. Not that there isn't an agreement that our external liabilities, in other words how much money we owe foreigners, [are] too high," Key said.
Dann then asked whether National would including the sorts of policies touched on by Brash and Treasury in it's manifesto next year, such as privatisation and welfare reform.
"I'm not going to unveil that today, but what I can say is when I came in as Prime Minister in 2008, when you go back to the campaign, you'll remember Labour ran a campaign about trust," Key said. "The argument was about, 'you can't trust John Key and you can't trust the future National government'.
"Actually in the two years that we've been in office, and I'm sure it will be proven to be the three years, you can trust us. If we say we're going to do something, we're going to do it. If we don't, we don't," he said.
"So when we roll out that manifesto in 2011, [that] will be what we do if we're given the privilege of being the government between 2011 and 2014.
"That's why I've stuck to my guns, and I haven't campaigned on one thing and done something different.
"In the end I've got to look New Zealanders in the eye and, some of the things we'll campaign on -- they won't like all of them. Hopefully they like the overall direction and the leadership we show, but they won't like every individual piece – they never do with any political party," Key said.
"But at least they know we're men and women of our word," he said.
Cunliffe: 'Two classic examples'
Labour Finance spokesman David Cunliffe said there were two "classic examples" of Key not keeping his word. "'We won't raise GST while running a deficit' - well they ran a deficit and they raised GST," Cunliffe said.
A second was that Key had said the tax package would be fiscally neutral, "well minus half a billion in the first year..."
"I would say that's two classic examples. I would have thought, more generally than that, he has a reputation of just saying what people want to hear," Cunliffe said.
(Updates with Cunliffe comments)