Budget 2011 may well be themed on savings and investment, PM John Key says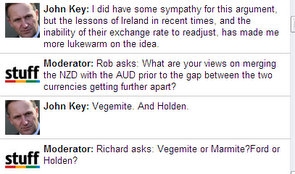 By Alex Tarrant
The government's 2011 budget may well have a theme around savings and investment, Prime Minister John Key said on a live Stuff chat this afternoon.
'Savings and investment' has been a hot economic topic in New Zealand this year, with the government-appointed Savings Working group due to report back to the government in January, ahead of the Budget in May 2011.
Support has been building in recent weeks for a tax break on the inflation component of interest earned on deposits, with Treasury, the Reserve Bank and Inland Revenue all backing the idea.
In other comments Key said the situation in Ireland, which uses the Euro currency, had made him go "lukewarm" on the idea of a combined New Zealand and Australian dollar due to Ireland's inability for its exchange rate to adjust.
Savings and Investment
Asked what National's agenda would be for the next 12 months prior to the election, and what could be expected in a second term, Key said: "it will be dominated by Budget 2011, which may well have a theme around savings and investment. Along with responding to the Welfare Working Group recommendations, and a number of other initiatives we're working on."
"If we get a second term there'll be continuation of the broad themes, which are economic development and lifting the overall performance of the economy. We'll spell out quite clearly the changes we'll campaign on and implement if we get a second term," Key said.
"There are a number of initiatives we took off the table for the 2011 election period, so we'll need to decide what we do there. The example of a policy where we were clear in our first term, is minority asset sales, and we'll need to make a decision on where we want to be with that," he said.
Student loans to stay free
Asked "what are your policies that you will be putting in place for student loan repayments?", Key said zero percent loans will remain.
"The eligibility criteria have already been modified, and the Minister will continue to look to see if there are any other loopholes that need fixing," Key said.
Wage gap with Australia
Asked "What sort of policies do you intend to put in place to close the difference in salaries between NZ and Australia and attract NZ workers in Australia (like me) back to NZ?"
Key said, "It's very early days, but since September 2008 to today, NZ's real after tax wages have risen by 8% and in the corresponding timeframe, Australia's have risen by 5%. That said, the wage gap widened over a 40 year period and cannot be narrowed easily. We need to understand the enormity of the task."
"Fundamental to this question is the improvement of productivity rates in NZ, which is why the Govt undertook tax reform, industrial relations changes, infrastructure building, and a general upskilling of the economy," Key said.
"Our analysis shows that Australian firms are continuing to deploy significantly more capital in their business than NZ - and that's an issue we need to consider," he said.
Tax policy
Asked: "According to your tax cut website, your personal tax cuts from the October 1 'tax swap' are $12,600 a year on your PM salary alone. How is borrowing that money to give you a tax cut adding value to New Zealand?"
The government's tax policy was designed to achieve two objectives, Key said.
"Firstly to raise enough revenue to pay for the govt's spending requirements, and secondly to put in place the right incentives for people to work and generate investment. By lowering our personal taxes, we are not only narrowing the wage gap between NZ and Australia, but we have re-weighted the investment proposition in New Zealand's favour," Key said.

"It may be true at the moment that the Govt is borrowing to fund its deficit for a variety of factors, but that's not always the case," he said.
Cost of living
Asked "There are lots of reports about the cost of living in NZ, compared to other countries e.g. power, phone. What are your thoughts on this?"
Key said: "The best indication of price increases is the overall inflation rate, which is currently running at 1.5%, or about a third of the rate of inflation that was in place when Labour left office."
Tasman currency
Asked: "What are your views on merging the NZD with the AUD prior to the gap between the two currencies getting further apart?"
Key said: "I did have some sympathy for this argument, but the lessons of Ireland in recent times, and the inability of their exchange rate to readjust, has made me more lukewarm on the idea."
Exchange rate
Asked: "As [an] ex foreign exchange trader, what in your opinion on the sustainablity of the Kiwi $ US $ at current spot range 73.78?"
Key said: "My guess is it will trade between 68c and 78c in the next four months. Hope this helps!"
Partial asset floats?
Asked: Will the national government ever consider the total sale of any public assets?
Key said: "We're not planning total sales, and have yet to conclude whether we might entertain the idea of partial floats."
Food prices
Asked: With inflation running at 1.5%, how do you explain the food prices increasing at over 60% over 5 years?
Key said: There were substantial food and petrol price increases in the last three years of the Labour Govt. But in the two years we have been in office price increases have been much more muted.
(Updates with food prices, partial asset floats?, exchange rate, links at top, cost of living, tax policy, student loans, wage gap comments.)
The live chat has now ended. See all of Key's comments (ie on non-economic issues) here.