Accounts show govt has been fiscally responsible so far this year, Prime Minister Key says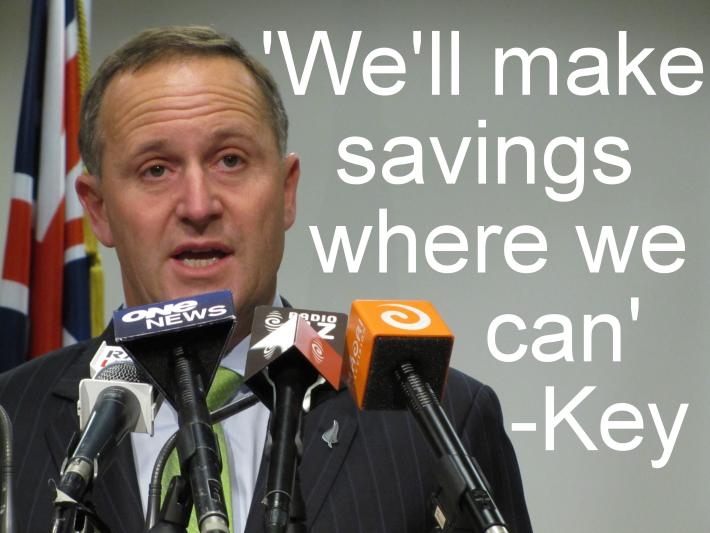 By Alex Tarrant
Prime Minister John Key says the Crown accounts out today show the Government had been fiscally responsible in the four months to October, with government spending lower than expected in May.
Key also confirmed the Government will undertake a spending review in the New Year, although he would not say what spending would be looked at.
Speaking to media at his weekly post cabinet press conference, Key said he couldn't detail spending changes yet, "but as I indicated last week we won't be going into election 2011 with a lolly scramble".
Key said the Government recognised the importance of taking pressure off the Reserve Bank, and that the way to do that was make sure government was fiscally responsible.
"In fact in the release of the Crown accounts today you can see how fiscally responsible we've been because government spending was lower than what was predicted by about NZ$450 million by memory," Key said.
But the government's operating deficit came in higher than expected?
"Yeah well that's because tax revenue is down and that's because we had to account for the [Canterbury] earthquake. They are factors partly beyond our control," Key said.
"We are getting that rebalancing and sometimes when we get that rebalancing the good news part of the story is you're less reliant on foreign borrowings, and that's good for your external liabilities. But it also means in the short term our tax revenue's been lower than we anticipated," he said.
Asked why a spending review would take place in the New Year and not now, Key said: "Because we're going to write budget 2011 in the New Year."
Key stuck with a prediction he had seen recently that the economy would grow 3% over the next year, despite indications of a weaker-than-expected recovery from Treasury.
'We'll make savings where we can'
All would argue government was running a larger deficit than it would naturally be comfortable with, Key said, "but I think that's been necessary in terms of getting New Zealand through the recession".
"I think we've tried to take the rough edges off the recession for New Zealanders. Realistically some of these things are short term cycles, so GST revenue might be slightly less now, [it] might be slightly more next year, there's certain timing issues there," Key said
"It's about the long term spending track of the government. That's what we're really interest in. If we can take our money, as we had in the past, out of the baseline, then long term implications on the Crown accounts are more important, it's not just the one off short term issues," Key said.
"We're looking to make savings where we possibly can and we'll detail those next year," he said on his 'baseline' comment.
On food prices
Asked about rising food prices, Key said price changes due to the GST increase on October 1 had been compensated for "in totality" either through personal tax cuts or an increase in Superannuation or other benefit payments.
"Food prices always rise, in fact they've risen by a much smaller amount under National than they did under Labour," Key said.
"They are accommodated for through the general wage increase, which is running probably at about 1.5% through the economy. So is it tough for some New Zealanders, yes, but a lot of their expenses are lower than they otherwise have been. Petrol prices have been considerably lower, interest rates considerably lower, general inflation running at 1.5%.
Key said he wouldn't take too much notice of the 5% predicted inflation rate over the short term due to government policies, "because as we know, the Reserve Bank governor's going to look through that so it won't have any impact on interest rates," he said.
Don't know how lucky we are
It needed to be accepted in New Zealand that the international environment was fragile, Key said.
"We've seen that with another bout of concern about what's happening both in Ireland and Spain. They are factors that maybe are predictable, but they also are a result of a very very deep global financial crisis," he said.
"From New Zealand's point of view, no one's arguing it is easy for New Zealanders, but what I can say is we're in a lot better shape than a lot of other countries. If you look at Australia, their growth numbers were out last week, they were much lower than people thought – 0.2%.
"If you look at unemployment in the US, it went up to 9.8% on Friday from 9.6%. If you look at our export growth, in fact we had record export growth I think last month."
Overall New Zealand had its challenges and the government had looked to address those through personal tax cuts and more liberal labour laws, Key said.
"We're doing what we can but we're always going to be a product of the international environment," he said.
'It could be higher income earners shoulder too much tax, not middle income earners'
On comments from Labour Leader Phil Goff that middle income earners were shouldering too much of the tax burden, Key said the current government had cut taxes so that around 70% of Kiwis paid taxes of no more than 17.5%.
"What I can tell you is if you go and have a look at the structure of personal taxes in New Zealand, there's still an awful lot of personal taxes paid by a very small group," Key said.
He could not recall the figure off the top of his head, but "it's at least a quarter to a half of the personal tax base is paid by a very small group".
"In fact if you earn NZ$50,000 in this country and have two children under the age of 18 you pay zero tax," Key said, referring to the Working for Families tax package.
"So actually, you might make the case that higher income earners pay a lot. But middle income earners, they pay a fair bit too. We're doing our best for them, that's why we've been cutting taxes," he said.
(Updates with comments on tax, don't know how lucky we are, comments on food prices)