Labour leader Goff calls for Tax Working Group to tackle tax avoidance to take pressure off middle classes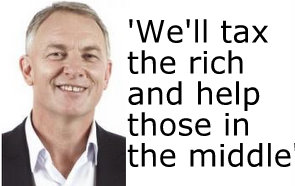 By Alex Tarrant
The Labour Party would look to rejuvenate the Tax Working Group to specifically look at ways to deal with tax avoidance and evasion, leader Phil Goff said today, while suggesting a Labour government would act on recommendations from the group.
Goff's comments come a day after he said in a speech that middle income earners shouldered too much of the tax burden (See more here), which led Prime Minister John Key to question how Labour would afford tax changes, as well as axing GST from fresh fruit and vegetables and resuming Super Fund contributions while the government was in deficit.
Key pointed out that National's tax changes meant middle income earners were now only paying 17.5% income tax.
The middle classes were not feeling the wealth effect they felt in the early parts of the 2000s because house prices had not been rising very much, Key said.
Although Goff stopped short of suggesting any firm policies to alter the tax burden, he said Working for Families could be expanded and that Labour may introduce a higher top tax rate for those earning over NZ$100,000. Goff also said Labour was not looking at implementing a capital gains tax or a land tax.
"My idea would be to get the working group under Bob Buckle, [which] did a lot of good work, set up and focussed on the issue of tax avoidance and evasion," Goff said.
"We know that hundreds of millions, if not thousands of millions of dollars are lost in that way. Anybody that dodges their tax, it means they're the people [who will be] picking up their share," he said.
Goff said working groups were a good idea for the government "if they are given a specific terms of reference, and if you're prepared to act on them".
"This government has been setting up working groups like the Brash committee, spending hundreds of thousands of dollars then ignoring its recommendations. Now if you're not going to listen to them, why set them up?" he said.
Middle income earners
Middle income earners were those who didn't get a lot of assistance from the State because they earned too much, but were not wealthy enough to be able to pay everything they needed to pay for as the higher income earners were, Goff said.
"They're the people that didn't get the huge tax cuts that the government brought in," he said.
"What I'm saying is that for the middle income earners who didn't get a share of the big tax cuts that the higher income earners got, they will be facing absolutely no [future] tax increases [under Labour]. If we can crack down on the tax avoiders and dodgers, and we can get further revenue from those sources, then down the track they're the people, if there is a chance to give tax relief again, [who] would get it," he said.
Goff said that Labour would consider raising the top tax rate, although it would be for earners with incomes "well into six figures".
Asked whether having a higher top income tax rate that could be around 38% alongside a corporate tax rate of 28% would encourage tax evasion, Goff said, "No there are ways you can deal with that, I'm not going to go into that detail now, that's something that the group would work at".
But what about Working for Families - isn't that for middle income earners?
"There are people who get some marginal assistance through Working for Families, but middle income people are people who don't get a lot of attention because they're not in absolute poverty, but they are really struggling to make ends meet," Goff said.
"They're struggling because petrol's gone up to [NZ$1.92 a litre], prices are going up across the board – food prices are through the roof – and they haven't had wage increases," he said.
"I stand by Working for Families because Working for Families has enabled families to survive at a time when they'd otherwise be facing incredibly tough times and sometimes poverty."
Goff said one option could be to expand Working for Families, "but I'm not going to make policy on the hoof, we haven't done the detailed work on that".
Cut power bills, govt borrowing too much
One option would be to minimise dividends paid by State-owned power companies to the government as a way of reducing pressure on middle income earners, Goff said.
"This country is in trouble with the deficit the government is building up. They've borrowed to pay for the tax cuts. There's not going to be scope for wide ranging further tax cuts other than in specific areas where I've pointed out, like taking the GST off fresh fruit and vegetables," Goff said.
"I indicated yesterday we'd be looking at not using power bills and dividends to the government from the big power companies as another form of taxation, as it has been used in the past by consecutive governments," he said.
"Any money that goes to the government as a dividend is solely for the purpose of transmission and generation capacity. It will not be used as a milk cow to raise taxation revenue for government."
"That obviously has an impact on power bills and power rebates," he said.
'But we might borrow for Super contributions'
Goff said Labour would look to restart Superannuation contributions, even if government was still in deficit.
"Obviously when you put money into the Superannuation Fund it's not going into consumption. It's an asset – it doesn't add to your net debt," Goff said.
"In the first instance some of that may be borrowed, but obviously the thrust of my speech yesterday was, if you've got decent jobs, if you've got decent incomes, then you're going to generate a lot more taxation," he said.
No wealth effect any more - PM Key 
Following Goff's comments that prices were rising across the board, Prime Minister John Key said that in some parts of the economy the cost of living has been easing. "Whether it's been petrol prices or interest rates, that's actually been a lower burden on New Zealanders," Key said.
"What is true is middle New Zealanders, like a lot of New Zealanders, aren't feeling the wealth effect that they felt in the early parts of [the 2000s] because house prices haven't been rising very much," he said.
"There are challenges but the government's been steadily cutting taxes, we're trying to take the burden off them wherever we can and for the most part there [have] been quite substantial tax changes for average New Zealanders."