SFO probing the affairs of govt guaranteed failed finance company Rockforte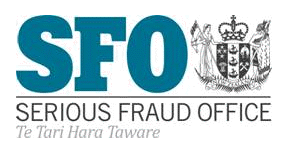 The Serious Fraud Office (SFO) says it has opened an investigation into the affairs of failed Gisborne-based finance company Rockforte Finance.
Rockforte, which was covered by the Crown retail deposit guarantee scheme,  was tipped into receivership in May this year owing 77 investors NZ$3.25 million. Treasury said yesterday it had paid out NZ$3.5 million to 66 Rockforte investors.
SFO chief executive Adam Feeley said although the Rockforte investigation was smaller than other cases, it had regional significance.
"Although not large in dollar terms, this is a case that has had a large impact on a local community," said Feeley. "Therefore the investigation fits well with the SFO's objective of restoring public confidence and improving financial security of New Zealand investors, within that community."
The investigation stems from an enquiry to Rockforte's receiver, Dennis Parsons of InDepth Forensic Ltd, by the SFO. Feeley said assistance from Parsons had been "invaluable." The Securities Commission and the Ministry of Economic Development's National Enforcement Unit are also investigating matters relating to the company.
The spotlight is likely to go on Rockforte's relationship with failed clothing retailer Jean Jones, whose liquidator  Bernard Montgomerie has said advances to Jean Jones accounted for about a quarter of Rockforte's loan book.
Rockforte was incorporated in June 2003. Its directors were John Patrick Gardner, Nigel Bret O'Leary and Colin Mark Simpson. The company issued debt securities to the public and used the proceeds to make loans secured mainly over imported second hand cars.
Rockforte stopped taking in new money in 2009. According to the receiver's first report, at the time of receivership 77 investors were owed NZ$3.25 million.
Feeley said Rockforte is the seventeenth finance the SFO has probed since 2007. Nine of the investigations are ongoing. To date five have resulted in criminal charges with the most recent charges being laid against two Capital + Merchant directors just yesterday.