PM John Key warns budget worse than forecast and 'at outer limits of what we'd regard as acceptable'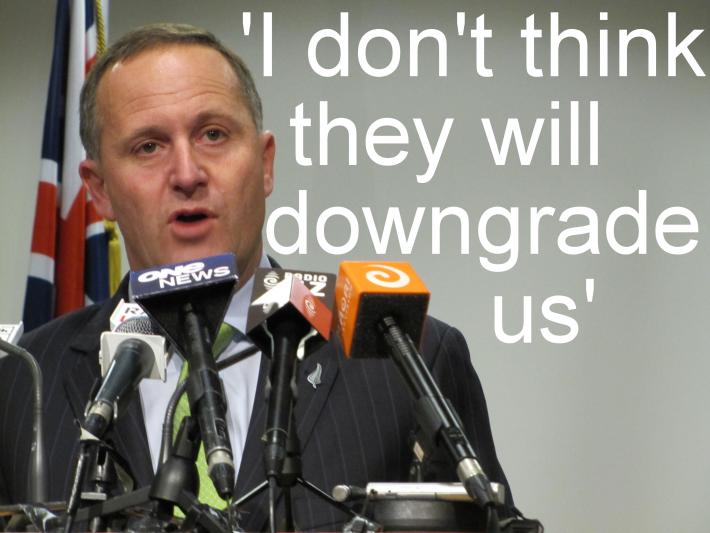 Prime Minister John Key has told a post cabinet news conference that the government accounts show the budget is in a worse position than previously forecast and was "at the outer limits of what we would regard as acceptable."
Key said a lower than expected tax take as well as factors such as the Canterbury earthquake would lead to a deficit "you would not like to see repeated" and which left little room for government to move. However he said he thought the credit rating agencies would be expecting such a figure and did not think the figures would lead to a downgrade. He would not speculate on what the deficit would be.
Key's comments came on the eve of the Government's Mid Year Budget Update due at 1pm on Tuesday.
They also come after Finance Minister Bill English foreshadowed a New Year review of government spending in the wake of figures showing the budget deficit running at NZ$4.4 billion just four months into the fiscal year, which was NZ$1.9 billion worse than expected. See more here.
Late last month Standard and Poor's put New Zealand's AA+ sovereign credit rating on review for possible downgrade after the deterioration in the government's outlook. See more here.
Lower and slower
The figures from Treasury tomorrow would show both economic growth and the government's fiscal performance for the current year "a bit below forecasts in Budget 2010 before improving over the subsequent few years," Key said on Monday afternoon.
"The data will also show the effects of the events of the past six, months, particularly the Canterbury earthquake and the more subdued than expected domestic recovery [which] have taken our fiscal position to the outer limit of what we would regard as acceptable," Key said.
"Some of this is due to New Zealanders saving and investing more, and borrowing and spending a bit less, which is obviously a good thing. But it does reinforce the need for the government to press on with its six-point economic program to build faster and more sustainable economic growth," he said.
The deficit figure was a "significant number".
"It's not a number you would like to see repeated but I think we need to acknowledge there's a number of factors that have been a little beyond our control," Key said.
"[The} tax take is has been slightly less than we anticipated, although the expectations are that will come back into line next year, and so while growth's slightly lower this year, it's actually anticipated to be slightly higher in the next fiscal period. And the Canterbury earthquake's had an impact on the books," he said.
Would it worry the credit rating agencies?
"No I don't think so, they'd be expecting it," Key said.
"There's no great surprise there. When you look at the numbers over the medium term it's a little worse this year, expectations are it'll be better the following year, but there's no getting away from the fact that they recognise there isn't a lot of room to move," he said.
"In fact if you look at what we've done over the last 12 months, there's a lot of areas where we've either saved money, saved a bit less, had significant lower new budget spend than previous governments.
"But the reality is New Zealanders have been saving at quite a significant rate, as opposed to dis-saving that we saw take place between 2000-2008, so tax revenue's been lower and on that basis there's a slightly bigger hole," Key said.
Will you have to cut govt spending?
The issue of cutting government spending was all for another date, Key said.
"But it just shows you there's not a lot of room for any government to move, and if you go into the 2011 election, I've made it quite clear there will be no lolly scramble going into 2011. We can't afford it. It's as simple as that," he said.
When asked whether the government would look to get back to surplus faster than expected (2015/16), Key said: "We might do but if we do that we'd be signalling that in early 2011."
Treasury Secretary John Whitehead signaled government should look to return to surplus faster than it was looking to in a speech last month. 
'Might be saving and not spending for some time yet'
Key said Finance Minister Bill English had been surprised by the extent of household savings over the year.
"I think that's a reflection of the international environment that people see. When you see pictures of the austerity packages, the cut-backs, the unemployment rates in the United States, Ireland, Greece and Portugal, then people rightfully so are cautions," Key said. "We've seen a great deal of cautious behaviour this year.
"How quickly we revert to type [to more spending] I don't really know because it will depend on what the economic outlook is like globally over the next few years," he said.
"We spent quite a long period of time where there was a consumption-led boom right through the back end of the 90s and right through the 2000s up to 2008. So it might be a period of time where we save. That's a good thing by the way. Our external liabilities [are] by far our biggest issue that we worry about," Key said.
Low credit growth a concern
Credit growth was one area of concern, Key said. "It's on a very low level for business, it's actually been low for households as well. That's one of the reasons why retail's been so soft, is that people are fundamentally saving money, not borrowing it," he said.
"In the end the bigger picture here for government is return the books to surplus as fast as we can, take the pressure off any impending rises that might otherwise occur in interest rates, and certainly try and take the pressure off the exchange rate.
"All I can tell you is the advice that we get from the Reserve Bank governor, and others, is that if we play our part and take the pressure off through better control of fiscal policy, then that will require less movement in terms of monetary policy," Key said.
"In other terms, we spend less, interest rates go up less."
Key's comments on advice from the Reserve Bank come after RBNZ governor Alan Bollard took a swipe at the government's structural deficit, which was around 4% of GDP. This structural deficit would not go away as the effects of the recession faded, Bollard said last week. A lower deficit would mean interest rates could stay lower, and take pressure off the New Zealand dollar, Bollard said.
Borrowing program not sustainable
Key defended the government's borrowing program to take the "rough edges off the recession", but said it was not a sustainable position.
"The deficit that we're running this year, and don't forget this is the biggest year of the deficit, has always been at the outer edges of my level of comfort. I think we did the right thing doing it [borrowing] because in my view we had to take the rough edges off the recession," Key said.
"There were plenty of people who argued we didn't go hard enough with a big stimulus package in 2009. I always thought we had. There are plenty of people who would argue that we should be doing less this year. I think we actually have got through the recession pretty well. It's not great growth, but we've grown for five quarters in a row," he said.
"Our unemployment rate is considerably lower than the OECD average, and while things aren't perfect, we're starting to see a lift in confidence in the New Zealand economy.
"In my view for that, and a variety of reasons it's been worth it in 2010, but it's not a sustainable solution position, nor would anyone argue that case," Key said.
Investment statement
Key said the investment statement due to be released tomorrow was going to show a government balance sheet north of NZ$200 billion.
"It's also going to point out where those assets sit. The largest amount of assets is in what's called 'social assets' which is the definition they use for National parks and things like that," Key said.
"It will effectively try and define the categories of assets we own into financial assets – assets for instance the Reserve Bank holds – and government-controlled assets like the Super Fund, right through to these other assets like roading infrastructure and national parks," he said
"The purpose is really just to show New Zealanders the magnitude of government's balance sheet."
SOE advice
Responding to whether Key had seen advice Treasury was ready to give ministers on who the best owners of State Owned Enterprises, Key said he had not seen any himself, "so given today was the last Cabinet of the year [I'm] clearly not going to see it before Christmas unless they give me some advice to take away just before Christmas," he said.
"But I'm sure we'll see it very early in the new year, if they don't give me something to take away with me," Key said..
(Updates with further quotes from Key on Investment statement and SOE advice)