The new 'Heartland Bank' hopefuls get an investment grade credit rating from S&P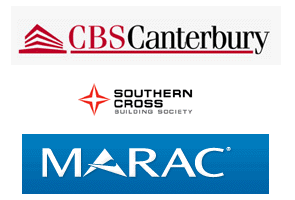 Standard & Poor's have given an investment grade credit rating to Building Society Holdings Ltd, the interim holding company for the proposed 'Heartland Bank'.
The rating assigned is BBB-.
This announcement follows Treasury's acceptance of them into the governments extended deposit guarantee scheme.
Their next step is to gain a banking licence from the RBNZ, and the company says its aims to apply for that early in the third quarter of 2011.
Here is the company's news release:
Building Society Holdings Limited (BSHL) today welcomed the decision by Standard & Poor's to assign an Investment Grade credit rating (BBB–, Outlook Stable, short term A3) to its newly formed $2.2 billion financial services and banking subsidiary, Combined Building Society.

The chief executive of BSHL Jeff Greenslade said: "This is a significant endorsement of our plan to bring together these three entities (CBS Canterbury, Southern Cross Building Society and MARAC) and to create a new and stronger entity that will be listed on the NZSX and that can offer compelling services to our target customers – namely SMEs, rural businesses and NZ families."

"Standard & Poor's swift approval means that we can now move forward with confidence and execute our strategies – a key one being an application for bank registration."

In its statement Standard & Poor's said the merger has created a larger and more‐diversified financial institution, with a sound funding and liquidity position and adequate capital adequacy.

"Consequently, the ratings reflect our favourable view of Combined's business risk profile, which is supported by its small but good market position in the New Zealand nonbank deposit‐taker sector, and its good business and geographic diversity." "In our view, the financial risk profile of the company receives significant support from the company's sound funding and liquidity position, capital adequacy, and improved financial flexibility."

"As a merged group, Combined's funding position is stronger than the three individual companies, stemming from its anticipated better access to retail and wholesale funding. It now has access to an expanded debenture‐investor market, and a higher banking and securitisation facility," the ratings agency said.