Have your say: '100% Pure New Zealand' replaced with '100% Pure You'; What does this mean for NZ and the economy?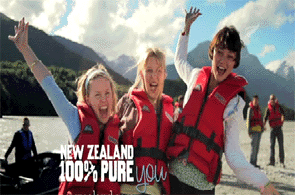 New Zealand doesn't need to be pure anymore.
Or at least that's one angle you can take from Tourism New Zealand's new overseas marketing campaign, where it has officially replaced the decade-old '100% Pure New Zealand' tag with '100% Pure You'.
Tourism New Zealand today launched the new campaign in Australia with a number of television ads staring Australian actors saying how wonderful their holidays were in New Zealand (there's jetboating, horse trekking and crossing a bridge). There is still the amazing scenery with snow capped mountains, beautiful rivers and empty beaches, but that doesn't need to be pure anymore, it's just tourists' experiences that need be.
Pure pressure
While the 100% Pure New Zealand campaign has been said to have worked wonders for the country's biggest export earner, it has come under increasing pressure in recent years from overseas journalists and others attacking the 'Pure' claim. This was most vividly highlighted in November 2009 by the UK Guardian newspaper's environment blogger Fred Pearce in a piece titled 'New Zealand was a friend to Middle Earth, but it's no friend of the earth'.
In the lead up to the Copenhagen climate talks, Pearce said his prize for the most shameless two fingers to the global community went "to New Zealand, a country that sells itself round the world as "clean and green".
New Zealand secured a generous Kyoto target, which simply required it not to increase its emissions between 1990 and 2010. But the latest UN statistics show its emissions of greenhouse gases up by 22%, or a whopping 39% if you look at emissions from fuel burning alone.

Some countries with big emissions growth started from a low figure in 1990. Arguably, they were playing catchup. There is no such excuse for New Zealand. Its emissions started high and went higher.
For more see this March 2010 column on the Economist website, 'It's not easy seeming green'.
Brand New Zealand
Tourism Minister John Key (who also happens to be Prime Minister) once mooted the idea that the 100% Pure tag become a "master brand" for all of New Zealand. This was quietly put on the backburner after business leaders expressed concern for the harm it could do to New Zealand's other export industries which are not quite as pure as a selection of some of the country's scenery.
Last year for an article in In-Business magazine, Export New Zealand Director Catherine Beard said you would be setting yourself up to fail "when you've said 100% anything". "Nothing's ever going to be 100%, so straight away you're setting yourself up for criticism. You can have beautiful vistas and clean and green without being 100% Pure," Beard told me in an interview for the story.
There was a desire among some business leaders in New Zealand to get a more sophisticated approach to what was brand New Zealand, Beard said.
Was 100% Pure a great opportunity to transform the economy?
But as the world becomes ever more weary of climate change and ways to slow it, a new buzzword is coming to the fore in the business arena - 'cleantech'.
A number of high profile businessmen argue the 100% Pure tag was a great launch pad for New Zealand to transform its economy into a clean, green business machine whose products and business practices would appeal to the rest of the world looking for more sustainable forms of production and consumption. Unlimited Magazine talked to one such group, including George Fistonich, Roy Fyfe, Phillip Mills, Stephen Tindall, Jeremy Moon, Geoff Ross and Rob Fenwick:
Their case? That clean technology is an economic opportunity for New Zealand — a chance to achieve the sort of growth and knowledge-led economy that so many people have been banging on about, while improving the environment and enhancing New Zealand's clean, green image. Many pieces of the jigsaw are in place. Every time you turn around another Kiwi company is doing something smart in the cleantech sector, from turning algae into energy to developing new geothermal power stations. It's time to take the conversation on cleantech mainstream, the lobby group believes.

It comes in several flavours — cleantech and greentech are just some of the labels — but the premise is simple. The world economy grew in the 20th century on the back of a carbon economy, fuelled by cheap oil. The megatrend of the 21st century will be a low-carbon economy. The transformation that we need, the lobby group says, from oil-fired growth into clean technology, is predicted to be the largest economic transformation the world has seen since the industrial revolution.
100% Pure still there
Due to its success over the last 10 years, Tourism New Zealand has retained '100% Pure' in its marketing line and this can still be leveraged off by those who want to use it. The 'pure New Zealand' tag has gone now, but the opportunities for cleantech and greener business practices are obviously still there.
However there's less pressure on 'us' to be pure anymore, it's up to 'you' now.
Your views?
Here is a release from Tourism NZ on the new campaign:
Tourism New Zealand's long-running 100% Pure New Zealand marketing message is evolving with a new campaign being unveiled today that puts visitors' unique experiences at the heart of the message by adding "You" to '100% Pure'.

Chief Executive Kevin Bowler said the evolution would help take the highly successful 100% Pure New Zealand marketing message to the next level.

Research suggested New Zealand could further increase its appeal as a holiday destination by personalising its marketing message and focusing on more than stunning landscapes and awesome scenery, he said.

"We have identified people around the world already considering travelling to New Zealand who have the financial means to make the trip. The addition of 'You' to the successful 100% Pure New Zealand advertising message is a logical next step that will benefit New Zealand's tourism industry by highlighting the many individual experiences on offer."

The campaign, debuting in Australia today, includes television commercials, online banner ads and a new '100% Pure You' tagline that, over time, will be used for all Tourism New Zealand advertising globally. It will be rolled out in New Zealand's major North American, European and Asian markets by the end of February.

Tourism New Zealand General Manager Marketing Communications Justin Watson said the new campaign would provide a better platform to bring to life the diverse tourism experiences available in New Zealand.

"The new global campaign will help us take New Zealand to the world in a way that better connects with our target audience. Authentic and special experiences will become the major draw card, while the beautiful scenery and environment will be a vital part of the story as the backdrop."

"We have stayed in close contact with New Zealand regional tourism operators and industry during the development of the '100% Pure You' message and the feedback we've received is that this new campaign is sufficiently versatile to effectively promote many aspects of the New Zealand experience."

100% Pure New Zealand has been used to promote New Zealand as a tourism destination since 1999. In November last year, New Zealand was ranked the third strongest country brand in the world, up one place from the previous year and ahead of the USA, by FutureBrand's Country Brand Index.

About the Australian campaign

The 100% Pure You campaign launched in Australia today includes television commercials which will be seen in the core markets of New South Wales, Queensland and Victoria in both the metropolitan and regional areas, supported by digital display advertising.

The campaign showcases the personal experiences of a young woman jet boating, a middle-aged father taking his children tramping and a young woman horse riding. They focus on the 'feeling' and benefit gained from the uniquely New Zealand experience. The emotion and experience is captured by the proposition of 100% Pure You and what that means for the individual.

The advertisements coincide with an Air New Zealand promotion from Australia to New Zealand.
View the three Australian television commercials here.
Find out more Tourism New Zealand's 'Active Considerer' target market research.