Food prices push higher in March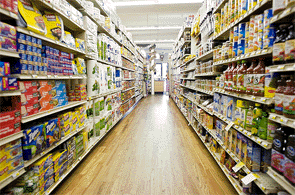 Food prices rose 0.3% for the March 2011 month, after a relatively flat February 2011 month, Statistics New Zealand said today. Food prices in March were up 5.5% on a year earlier.
The meat, poultry, and fish subgroup had the largest impact on food prices in March, rising 1.5%. This was influenced by price rises for beef (up 3.8%), processed meat (up 1.4%), and lamb (up 3%).
Grocery food prices rose 0.4% in March 2011, with higher prices for bread (up 4.6%) and cakes and biscuits (up 4.3%).
"Bread prices are now 2.4% higher than when they previously peaked, in May 2009," Statistics NZ prices manager Chris Pike said.
Fresh milk prices fell slightly - down 0.2% -  in March, down from their peak in February. Supermarket chains announced in February that prices would not increase for the rest of 2011.
The only items that fell in in March from February were fruit and vegetables - down 1.6%. This was influenced by seasonal price falls for apples which were down 25%,  potatoes which were down 11%, and grapes down 30%.
Fresh milk prices were up 9.3% for the year to March 2011 compared with a year ago. Prices also increased for beef - up 8.2% and lamb 16.4%.
Soft drinks as a group are now almost the same price as fresh milk, having risen 'only' 5.3% over the past year (compared with milk's 9.3% rise).