Watch out white collar criminals on bicycles, the FMA has the power to search your bike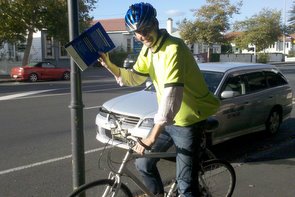 By Gareth Vaughan
Watch out cyclists, the government's new financial markets regulator may have its eye on you.
The Financial Markets Authority (FMA), due to be up and running in place of the Securities Commission from May 1, has some beefed up and broader powers than its predecessor as the government strives to restore "ma & pa" retail investors' shattered confidence in the financial markets after the collapse of dozens of finance companies over the past five years. See our Deep Freeze List here for full details of the collapses.
Among the FMA's powers will be information gathering and enforcement powers. These include search powers for its staff and representatives. Among the things they'll be able to search are email addresses and internet data storage facilities, plus vehicles. The vehicles that FMA snouts may burrow into include the obvious motor vehicles, perhaps in case the collapsed finance company's CEO has hidden something in his Porsche, plus aircraft, trains, ships and even bicycles.
This ability to search bikes was pointed out by Chapman Tripp in a Brief Counsel note on the FMA, where the law firm notes the regulatory waters will lap "higher and colder" from May 1.
Just what the FMA may be concerned could be hidden on, or in, a bicycle is unclear. However, it's worth noting that accountant and former Shareholders' Association chairman Bruce Sheppard, a keen cyclist, was on the FMA Establishment Board and is an associate member of the incoming FMA board.
Former Australian Securities and Investments Commission executive Sean Hughes has been appointed CEO of the FMA. Hughes recently told interest.co.nz in a Double Shot interview that restoring ma & pa investors' confidence in the financial markets was a big task and he and the FMA would need plenty of help to achieve it.
This article was first published in our email for paid subscribers this morning. See here for more details and to subscribe.