PM Key says Budget 2011 will forecast strong employment growth over next few years, with wage growth outstripping inflation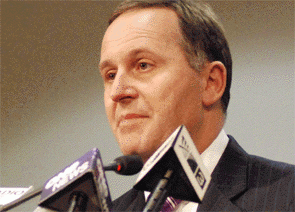 The government's Budget on Thursday will forecast strong employment growth and wage growth that will "well and truly outstrip inflation," Prime Minister John Key says.
Key made the comments at his weekly post-cabinet press conference on Monday.
Meanwhile, although Key would not say when the government Budget would return to surplus, he said if Treasury spending forecasts made in December were followed and the effect of the Christchurch earthquake was included in  that modelling, a surplus would be achieved in 2016/17 and net debt would peak at 34% of GDP.
Since December the government was doing better than that, having decided to implement a budget with no overall increase in nominal spending from last year, rather than increase spending by a previously planned NZ$1.1 billion, Key said.
Strong growth forecast
Budget 2011 was an important step in rebalancing the economy, Key said.
"The budget will forecast strong wage growth and strong employment growth over the next couple of years. You'll have to wait until Thursday to see the exact numbers, but what I can say is that the growth in average weekly wages over the next few years is expected to well and truly outstrip inflation," he said.
"Treasury are also forecasting strong employment growth."
However, Key would not be drawn into exact figures.
See Bernard Hickey's piece attacking Treasury forecasts here.
Very few, if any, of these jobs would come from the back office of the public sector.
"The Budget will continue our drive for efficiency in government administration. That is consistent with our plan to rebalance the economy towards the internationally competitive sectors of the economy and away from domestically focused, and in particular government-focussed, sectors," Key said.
"We've set an overall fiscal savings target in the budget that we'll realise over the three years starting 1 July 2012, and this figure will be reflected in the budget. I think you'll be surprised about how much we are looking to save overall from a couple of public sector initiatives. Targets for individual agencies will be finalised after the budget, based on their size and current funding," he said.
It would then be over to departmental chief executives to identify how exactly to meet these targets, although government would put in a number of safeguards to protect the quality of frontline services, Key said.
Surplus track earlier than 2016/17?
Meanwhile, Key said the surplus track in Thursday's Budget should be compared with an estimate that surplus would come in 2016/17 if government were to stick to Treasury's December forecasts, while factoring in the February 22 Christchurch earthquake.
"The half year update (HYEFU) last December showed the government returning to a meaningful surplus in 2015/16 – that was the previous benchmark," Key said.
Net government debt was forecast to peak at 28.5% in 2015 according to the December forecasts.
"Since then of course we've had the second Canterbury earthquake and slower than expected growth. These events have changed the outlook for both debt and deficits," Key said.
"If we'd stuck to the fiscal script as written in the HYEFU, with no additional savings, we'd now be expecting to get back to a meaningful surplus a year later, so that would now be 2016/17, and debt would be peaking at 34% of GDP," he said.
"The point I want to emphasise quite strongly here is that everything we do in this week's budget needs to be compared with the current baseline – against returning to surpluses in 2016/17, and having debt reach 34% of GDP, rather than what was in the HYFU."
"Clearly we're doing better than that," Key said.
Wage growth 4-5% p.a?
Treasury predictions in Budget 2011 were that New Zealanders would be earning more, at a faster rate than the inflation rate, and getting to keep more of it, Key said.
Asked whether that meant wage growth of 4-5% a year, Key replied: "You'll have to wait until Thursday, but that might be an educated guess."
Meanwhile Key brushed aside critisim of previously too-optimistic Treasury forecasts.
"We all acknowledge that there's a degree of putting one's finger in the air when it comes to these things. The world didn't predict that we'd have such a melt-down in Portugal and Greece, and the problems with Spain in the latter part of 2010. That reflected [in] and reduced growth right across the world, not just singularly in New Zealand," Key said.
"But I think there are a lot of factors that are now indicating a stronger period of growth. In New Zealand we obviously have the Rugby World Cup, clearly we're going to have the rebuilding phase for Christchurch. We're also starting to see some very positive signs coming out of the business community, and overall our commodity prices remain very high," he said.
"So there are always risks, as I've said before, but our expectation is that Treasury are probably on the money."
See Bernard Hickey's piece attacking Treasury forecasts here
Net debt above or below 30% of GDP?
Meanwhile, asked whether the budget would be in line with the government's stated wish for net debt to not rise above 30% of GDP, Key would not confirm or deny that, but said he had made it very clear as to what he thought the ratings agencies' expectations of New Zealand were, and what he thought was important to achieve.
In an interview with The Economist magazine earlier this month, Key said the government had essentially promised the ratings agencies that net government debt would not rise above 30% of GDP, although Finance Minister Bill English had warned in March that net debt could rise above that threshold.
The government had a responsibility to keep our debt under control, Key said.
"Everyone accepts that we had to use the [government] balance sheet for a couple of things. Firstly, the front-end loading of [debt for] the costs of Christchurch, and secondly you had some big spending programmes which we've been getting under control, and Budget 2011 does a good job in getting those programmes on a sustainable basis," he said.
"Also I think we did the right thing actually – using the balance sheet to actually stimulate the economy."
The budget deficit before gains and losses is expected to be as high as NZ$17 billion for the current year ending June 30. The government has increased it borrowing programme for the year from NZ$13.5 billion forecast in December to NZ$20 billion, or 10% of GDP, to cover this year's deficit, with the balance to be put toward next year's shortfall, expected to be half that of the current year.
"For quite some time now I've been saying, look, 30% is, in my view, where it [net debt as a proportion of GDP] should stop," Key said..
"And that's partly because the rating agencies...generally put countries in three categories: 0-30%, they are very comfortable with government debt at those levels; 30%+ to 70%, they think will have some impact on growth but they start getting concerned; and above 70% they're very concerned," he said.
"My expectations are that we've got a good, solid pathway both back to surplus and a good pathway for controlling debt. I think if one sees that in the context of everything the government had to deal with – two earthquakes, a global financial crisis, the need to stimulate the economy, the bailout of the finance sector, then I think we have got a very clear pathway. The countries I visited in Europe, I'm not sure they could actually point to that sort of pathway."
(Updates with comments debt, on wage growth, surplus track.)