Budget 2011 - Transport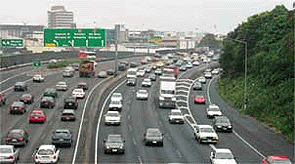 This table outlines the New Zealand Government's planned transport spending for the 2011/12 budget year.
Actual spending for the previous four years is on the left and includes, for the sake of comparison, the previous Labour Government's final spending in 2008.
The numbers are taken from the Vote Transport. A link to the primary source used, from Treasury's website, can be found at the bottom of the page.
Please note that some of the allocation titles have been shortened for the sake of space.
Figures for each allocation are in millions of NZ$.
| | | | | | | |
| --- | --- | --- | --- | --- | --- | --- |
| Actual 2007/08 | Actual 2008/09 | Actual 2009/10 | Forecast 2010/11 | Transport: | Budget 2011/12 | % |
| NZ$m | NZ$m | NZ$m | NZ$m |   | NZ$m |   |
| 0.000 | 0.250 | 0.635 | 0.000 | Transport Accident Investigation Commission | 0.000 | 0.0% |
| 2.043 | 3.517 | 2.500 | 0.000 | Sector Leadership and Support | 0.000 | 0.0% |
| 0.000 | 0.000 | 90.000 | 0.000 | New Zealand Railways Corp Operating Support | 0.000 | 0.0% |
| 0.000 | 0.000 | 0.900 | 0.000 | Maritime New Zealand Capital Expenditure | 0.000 | 0.0% |
| 0.192 | 0.238 | 0.000 | 0.000 | Distress Radio Beacons Education Campaign | 0.000 | 0.0% |
| 3.236 | 1.911 | 0.000 | 0.000 | Land Transport Revenue Forecasting and Strategy | 0.000 | 0.0% |
| 0.000 | 1.259 | 0.000 | 0.000 | Maritime New Zealand | 0.000 | 0.0% |
| 0.000 | 77.900 | 0.000 | 0.000 | State Highway Construction Guarantee | 0.000 | 0.0% |
| 7.775 | 11.776 | 0.000 | 0.000 | Research and Performance Monitoring | 0.000 | 0.0% |
| 2.743 | 0.401 | 0.000 | 0.000 | Next Steps Review Implementation | 0.000 | 0.0% |
| 5.189 | 5.689 | 0.000 | 0.000 | Maritime Safety Regulation and Monitoring | 0.000 | 0.0% |
| 2.178 | 1.203 | 0.000 | 0.167 | Ministry of Transport - Capital Expenditure | 0.000 | 0.0% |
| 50.600 | 77.900 | 0.000 | 0.000 | State Highway Construction Programme Guarantee | 0.000 | 0.0% |
| 210.000 | 319.120 | 0.000 | 0.000 | Regional Land Transport | 0.000 | 0.0% |
| 31.492 | 30.545 | 0.000 | 0.000 | Promotion, Information and Education | 0.000 | 0.0% |
| 66.966 | 5.197 | 0.000 | 0.000 | Motor Vehicle Registry and Revenue Management | 0.000 | 0.0% |
| 0.000 | 8.000 | 0.000 | 0.000 | Regional Development Transport Funding | 0.000 | 0.0% |
| 2.000 | 2.500 | 0.000 | 0.000 | Rail and Sea Freight | 0.000 | 0.0% |
| 76.063 | 74.156 | 0.000 | 0.000 | Management of Funding Allocation System | 0.000 | 0.0% |
| 1.000 | 0.000 | 0.000 | 0.000 | Bay of Plenty Transport | 0.000 | 0.0% |
| 40.000 | 0.000 | 0.000 | 0.000 | Tauranga Harbour Link Project | 0.000 | 0.0% |
| 4.000 | 0.000 | 0.000 | 0.000 | Wellington Land Transport | 0.000 | 0.0% |
| 2.667 | 0.000 | 0.000 | 0.000 | Realignment of Buckle Street | 0.000 | 0.0% |
| 4.000 | 0.000 | 0.000 | 0.000 | Waikato Land Transport | 0.000 | 0.0% |
| 0.731 | 680.416 | 0.548 | 0.000 | Regulatory Implementation and Enforcement | 0.000 | 0.0% |
| 0.000 | 0.000 | 2.000 | 0.500 | Land Transport Program - Rail and Coastal Freight | 0.000 | 0.0% |
| 0.000 | 0.000 | 0.000 | 4.340 | CAA loan | 0.000 | 0.0% |
| 0.000 | 0.000 | 6.000 | 6.000 | Land Transport - Sector Training and Research | 0.000 | 0.0% |
| 0.000 | 0.000 | 0.000 | 21.139 | Metro Rail Network Costs | 0.000 | 0.0% |
| 27.524 | 33.748 | 20.000 | 13.000 | Land Transport - Walking and Cycling Facilities | 0.000 | 0.0% |
| 0.000 | 0.000 | 68.000 | 17.170 | Wellington Rail Development | 0.000 | 0.0% |
| 30.473 | 0.000 | 30.000 | 34.000 | Land Transport Program - Transport Planning | 0.000 | 0.0% |
| 0.000 | 30.000 | 78.700 | 33.700 | Accelerated State Highway Construction | 0.000 | 0.0% |
| 0.000 | 0.000 | 35.740 | 30.759 | Land Transport Program - Mgmt of Funding | 0.000 | 0.0% |
| 0.000 | 0.000 | 41.344 | 41.444 | Land Transport - Management and community programs | 0.000 | 0.0% |
| 0.000 | 0.000 | 135.000 | 41.000 | Land Transport - Public transport infrastructure | 0.000 | 0.0% |
| 323.596 | 313.064 | 175.000 | 154.000 | Land Transport - New infrastructure for local roads | 0.000 | 0.0% |
| 241.689 | 313.800 | 200.000 | 217.600 | Land Transport  - Public transport services | 0.000 | 0.0% |
| 182.226 | 0.000 | 215.000 | 235.000 | National Land Transport Program - Maintenance and operation of Local Roads | 0.000 | 0.0% |
| 0.000 | 240.622 | 218.000 | 237.000 | National Land Transport Program - Renewal of local roads | 0.000 | 0.0% |
| 209.406 | 0.000 | 320.900 | 310.000 | National Land Transport Program - Maintenance and operation of state highways | 0.000 | 0.0% |
| 0.000 | 70.425 | 380.000 | 384.000 | National Land Transport Program - State highway renewals | 0.000 | 0.0% |
| 0.000 | 0.700 | 1.100 | 0.135 | Admin of the SuperGold Cardholders Scheme | 0.095 | 0.0% |
| 0.145 | 0.145 | 0.145 | 0.145 | Maritime Security | 0.145 | 0.0% |
| 0.000 | 0.000 | 46.105 | 70.761 | Rail network and rolling stock upgrade | 0.147 | 0.0% |
| 0.121 | 0.157 | 0.250 | 0.270 | Airport Operation and Admin Milford Sound | 0.200 | 0.0% |
| -0.462 | 7.348 | 7.054 | 2.456 | Aviation Security Service | 0.303 | 0.0% |
| 0.000 | 0.392 | 0.429 | 0.429 | Refund of Fuel Excise Duty | 0.429 | 0.0% |
| 0.614 | 0.820 | 0.903 | 0.531 | Joint Venture Airports - Crown Contribution | 0.500 | 0.0% |
| 0.500 | 0.500 | 0.500 | 0.500 | Railway Safety | 0.500 | 0.0% |
| 0.000 | 727.065 | 1.302 | 9.861 | New Infrastructure for State Highways - Crown Contribution | 0.529 | 0.0% |
| 0.000 | 0.000 | 0.000 | 0.548 | Ministerial advice | 0.548 | 0.0% |
| 0.674 | 0.743 | 0.743 | 0.743 | International Memberships | 0.743 | 0.0% |
| 0.000 | 0.000 | 0.669 | 0.725 | Ministry of Transport - Capital Expenditure | 0.750 | 0.0% |
| 0.000 | 0.000 | 1.700 | 1.850 | Land Transport Revenue Forecasting and Strategy | 1.000 | 0.0% |
| 0.000 | 0.000 | 0.000 | 1.136 | Search & rescue co-ordination | 1.136 | 0.0% |
| 0.000 | 0.000 | 0.000 | 1.650 | Governance and Performance Advice and Support | 1.400 | 0.0% |
| 0.000 | 0.000 | 9.000 | 11.000 | Regional Development Transport Funding | 2.000 | 0.0% |
| 0.000 | 2.261 | 2.261 | 2.261 | Civil Aviation Policy Advice | 2.219 | 0.0% |
| 0.000 | 2.095 | 2.475 | 2.475 | Licensing Activities | 2.475 | 0.0% |
| 3.270 | 3.270 | 3.270 | 3.270 | NZ Railways Corp - Public Policy Projects | 3.270 | 0.0% |
| 3.274 | 6.772 | 7.494 | 3.274 | Search and Rescue Activities | 3.274 | 0.0% |
| 2.723 | 3.938 | 3.938 | 3.938 | Reporting on Accident or Incident Investigations | 3.865 | 0.0% |
| 0.000 | 0.000 | 0.000 | 4.533 | Search and Rescue and Recreational Boating Safety Activities | 4.473 | 0.1% |
| 0.000 | 0.000 | 14.500 | 14.000 | Canterbury Transport Project | 5.000 | 0.1% |
| 3.000 | 4.586 | 0.000 | 0.000 | Waikato Rail Funding | 5.415 | 0.1% |
| 0.000 | 0.000 | 5.689 | 5.689 | Maritime Safety Regulation and Monitoring | 5.689 | 0.1% |
| 3.776 | 2.398 | 10.000 | 6.000 | Vehicle Reg & Road User Charges Bad Debt Provision | 6.000 | 0.1% |
| 0.000 | 17.688 | 17.344 | 17.344 | Road User Charges admin | 17.855 | 0.4% |
| 17.097 | 17.511 | 18.573 | 18.574 | Weather Forecasts and Warnings | 18.574 | 0.4% |
| 0.000 | 13.300 | 19.300 | 21.865 | public transport concessions for SuperGold card | 22.905 | 0.5% |
| 0.000 | 28.078 | 31.079 | 29.784 | Policy Advice | 30.118 | 0.7% |
| 0.000 | 31.678 | 41.686 | 42.311 | Motor vehicle registry | 40.016 | 0.9% |
| 0.000 | 0.000 | 63.000 | 114.929 | Metro Rail rolling stock upgrade - Wellington | 88.552 | 2.0% |
| 0.000 | 0.000 | 184.884 | 183.155 | Auckland rail development | 248.202 | 5.7% |
| 0.000 | 0.000 | 20.000 | 250.000 | Kiwirail turnaround plan funding | 250.000 | 5.8% |
| 0.000 | 0.000 | 405.000 | 55.000 | New Zealand Railways Corporation loans | 330.769 | 7.7% |
| 680.416 | 680.416 | 549.803 | 717.098 | New Infrastructure for and Renewal of State highways | 671.134 | 15.5% |
| 0.000 | 0.000  | 0.000  | 100.000 | NLTF borrowing facility for short term advances | 750.000 | 17.3% |
| 0.000  | 0.000  | 0.000  | 0.000 | National land transport program | 1,792.653 | 41.5% |
|   |   |   |   |   |   |   |
| 2,242.90 | 3,855.50 | 3,490.50 | 3,479.10 | Totals: | $4,322.90 | 100% |
You can get back to the main page that summarises all government spending here >>
Sources:
Transport: http://treasury.govt.nz/budget/2011/estimates/est11trans.pdf